Farmhouse Fresh Coconut Cream Shea Butter For The Body – 8oz
🔍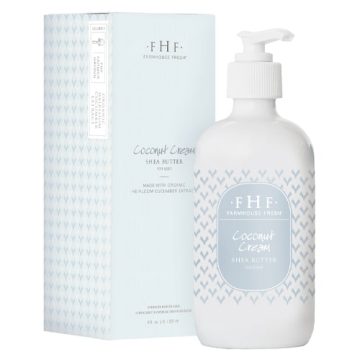 Farmhouse Fresh Coconut Cream Shea Butter For The Body – 8oz
$30.00
Softens and soothes dry, chapped skin.
Calms many irritations and allergies, including sunburns.
Fights wrinkles through deep penetration of vitamins A & E, helping improve elasticity and aiding the skin in retaining its own moisture.
Cucumber Extract is rich in vitamin C and caffeic acid, an antioxidant that helps improve skin texture.
In stock
Description
Farmhouse Fresh Coconut Cream Shea Butter
When coconuts dream, they dream of this specially blended shea butter – wouldn't you? Coconut Cream Shea Butter, like it's a beloved twin bar soap, is deliciously scented with notes of heavy cream & fresh coconut. The supple butters and Vitamin E-packed Jojoba and Soybean oils calm even the severest of dry skin. This cream is thick and luscious but leaves no greasy feel on the skin. Dream on!
U.S. FARM HARVESTS:
FHF farmer-grown Organic Cucumber Extract.
U.S.-grown & non-GMO Soy Oil.
FULL LIST OF INGREDIENTS: Water/Eau, Stearic Acid, Glycerin, Glycine Soja (Soybean) Oil, Glyceryl Stearate SE, Butyrospermum Parkii (Shea Butter), Sorbitol, Cyclopentasiloxane, Parfum*, Organic Cucumis Sativus (Cucumber) Fruit Extract, Theobroma Cacao (Cocoa) Butter, Simmondsia Chinensis (Jojoba) Seed Oil, Aloe Barbadensis Leaf Juice, Cetyl Alcohol, Polysorbate 80, Tocopheryl Acetate, Octyldodecyl Myristate, Potassium Sorbate, Phenoxyethanol, Caprylyl Glycol. *All FarmHouse Fresh® fragrances are phthalate-free.