GM Collin City D-Tox Eye Contour Gel – 0.5oz
🔍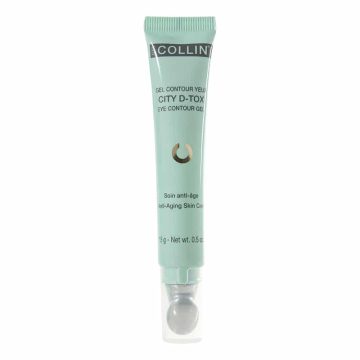 GM Collin City D-Tox Eye Contour Gel – 0.5oz
$60.00
This anti-aging eye contour gel is perfect for all skin types!
Benefits
Reduces the look of dark circles, puffiness and the appearance of expression lines.
Refreshes and illuminates the eye contour area, as well as replenishes the skin's moisture barrier.
With a unique metallic applicator that provides an instantly refreshing and cooling sensation.
In stock
Labor Day Sale 15% Off Code: labor22
Description
GM Collin City D-Tox Eye Contour Gel
An invigorating and refreshing eye gel with a unique applicator which reduces under-eye puffiness and under eye dark circles. A synergistic blend of peptides smooth fine and wrinkles while enhancing hydration. Assists with protection from environmental toxins and pollution while illuminating and energizing the delicate skin tissue, giving eyes a radiant complexion.