ilike Organics Mineral Exfoliating Wash – 4.2 oz
🔍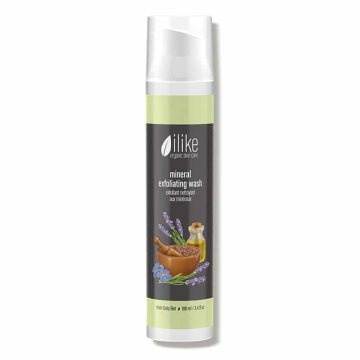 ilike Organics Mineral Exfoliating Wash – 4.2 oz
$78.50
Ilike Organic Skin Care Mineral Exfoliating Wash cleanses and sloughs off dead skin cells to rejuvenate thick, scaly, blotchy skin as it balances oil production. Astringent lavender oil moisturizes and provides the skin with anti-inflammatory benefits to alleviate irritation and redness due to sensitive skin conditions, including rosacea, acne and eczema. Vitamin F keeps the skin strong, healthy and smooth.
Labor Day Sale 15% Off Code: labor22
Description
ilike Organics Mineral Exfoliating Wash
Skin Type: Oily/Sensitive Skin.
ilike Mineral Exfoliating Wash Description:
Using ilike Mineral Exfoliating Wash all over the body can help relieve skin prone to chafing, psoriasis, eczema and inflammation. Soothe and soften skin while you rid your skin of impurities.
ilike Mineral Exfoliating Wash Features & Benefits:
Certified organic ingredients (BDIH, EcoCert partner Biokontroll and EU decree certifictates).
Removes dead skin build-up.
Prepared with fruit, vegetable and herb pulps to preserve the full concentration and potency of ingredients.
Relieves signs of rosacea and other skin problems.
Regulate sebaceous and perspiratory glands.
Calms inflammations.
How To Use ilike Mineral Exfoliating Wash:
ilike Mineral Exfoliating Wash can be used up to twice a day on the back, decollete, and all over the body. Start by mixing a little of the wash in your hands with some water. Avoiding the eye area, massage into the skin using a circular motion for 1 to 3 minutes. Rinse off completely using a damp towel. Finish by using a toner and moisturizer.
ilike Mineral Exfoliating Wash Ingredients:
Ichthammol, Lavender Oil, Flaxseed Oil, Lignans, Omega-3 and Omega-6 Fatty Acids, Sterols, Vitamin F.