ilike Sulphuric Whipped Moisturizer – 1.7 oz.
🔍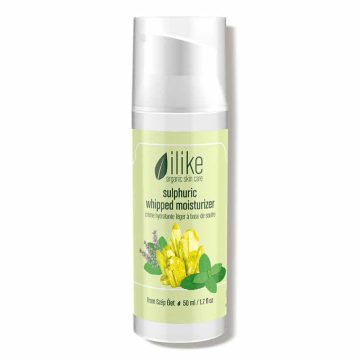 ilike Sulphuric Whipped Moisturizer – 1.7 oz.
$69.50
Ilike Organic Skin Care Sulphuric Whipped Moisturizer hydrates, nourishes and rejuvenates the skin for a healthier look and feel. Sulfur helps the skin from shedding excessively to bring relief to conditions including psoriasis. Peppermint oil refreshes and brightens tired skin while helping control excess oil production. Shea butter keeps the skin supple while vitamin C provides antioxidant protection to combat free-radical damage.
Labor Day Sale 15% Off Code: labor22
Description
ilike Sulphuric Whipped Moisturizer
Skin Type: Normal/Combination Skin.
ilike Sulphuric Whipped Moisturizer Description:
Peppermint oil and limewater help both the face and body become hydrated, yet slightly dry. Not only does it help acne eruption and even out keratin layers, but it soothes irritated skin and helps dry and sensitive skin. Can be applied to spotted back, shoulder and chest or used as the final step of your routine.
ilike Sulphuric Whipped Moisturizer Features & Benefits:
Moisturizes while mildly drying.
Heals and decreases inflammation.
Evens sebaceous gland activity.
Increases the skin's resistance.
Helps sulphuric ions absorb into epidermis, strengthening the keratin layer.
Certified organic ingredients (BDIH, EcoCert partner Biokontroll and EU decree certifictates)
Prepared with fruit, vegetable and herb pulps to preserve the full concentration and potency of ingredients.
How To Use ilike Sulphuric Whipped Moisturizer:
First, cleanse the skin and apply toner and serum. Next, use a thin application of Rosehip Moisturizer. Use in the morning and the evening.
Spa tip: This cream is great for pedicures because of it's antifungal properties.
ilike Sulphuric Whipped Moisturizer Ingredients:
Shea Butter, Corn Germ Oil, Peppermint Oil, Sulphur, Vitamin C and E.