Nelly De Vuyst CirculaCrème – 5.30oz
🔍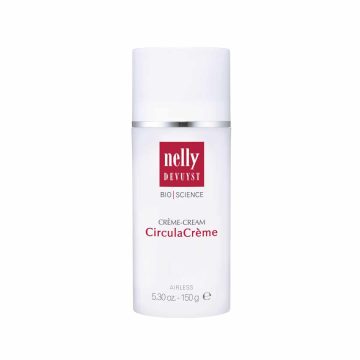 Nelly De Vuyst CirculaCrème – 5.30oz
$120.18
FEATURES AND BENEFITS:
Decongesting complex stimulates lymphatic circulation, vasoconstrictor and anti-inflammation
Rebalances circulation and hydro static pressure for tired and heavy legs
Reduces joint and muscle pain
Rich in anti oxidants, prevents the inflammation from free radical damage
Stimulates the production of new collagen in the connective tissues of the skin, tendons, cartilage, etc.
Improves the appearance of hydric cellulite
DO NOT use during pregnancy and when breastfeeding. Do not apply to irritated skin.
Labor Day Sale 15% Off Code: labor22
Description
Nelly De Vuyst CirculaCrème
Ideal for heavy legs, water cellulite, arthritis, osteoporosis, muscle and inflammatory pain.
A therapeutic body cream that balances hydrostatic pressures. Composed of decongesting, draining, vasoconstricting and anti-inflammatory ingredients. Reduces joint and muscle inflammation phenomena. Improves venous circulation. Improves the appearance of water cellulite.
Apply to areas where inflammation is present. It can be incorporated with massage therapy. Non-comedogenic and dermatology tested. For external use only. Avoid contact with the eyes.
Key ingredients
Birch Bark Extract, Arnica, Borage Seed Oil, Complex of Essential Oils of: Mint, Lemon, Cypress, Lavender, Romarin, Cistus, Horse Chestnut Extract, Bisabolol.