Oil-Free Sebum Control Moisturizer
🔍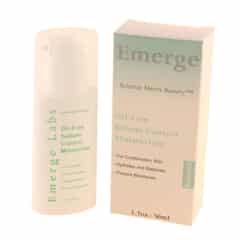 Oil-Free Sebum Control Moisturizer
$34.00
Labor Day Sale 15% Off Code: labor22
Description
Oil-Free Sebum Control Moisturizer
regulates sebum production,, especially in the T-zone area of greasy problem skin—effective long-term regulation and control of sebum, based on 5-alpha reductase inhibition.
Emerge skin care system that adds new dimensions and an innovative concept. It performs multi-functional tasks so that the essential dimension adds to the control cream. It will not only be easy to absorb and give the skin nutrients, but it will also stop sebum from coming out. It also enhances the skin protection function to keep the skin in its optimal condition. The new ingredient of Seb-Regu gets your skin Auto-protection. It keeps sebaceous glands from working too hard so they don't make too much sebum and lets the skin quickly soak up moisture. It keeps the skin feeling trouble-free, pleasant, and healthy.
Directions: Skin should be cleaned thoroughly. Apply a thin layer to the entire face 1-2 times daily.