Sothys Soothing SOS Serum – 20ml-0.67oz
🔍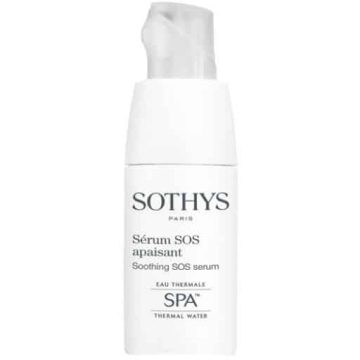 Sothys Soothing SOS Serum – 20ml-0.67oz
$42.99
This essential serum with Spa™ Thermal Water, Wild Jasmine leaf extract and Tetra-Peptide quickly neutralizes permanent or temporary sensations of discomfort, and limits their appearance. Blue ageratum leaf and brown algae extracts limit the inflammatory reaction and visibly reduce redness.
Description
Sothys Soothing SOS Serum
SOS aid for immediate comfort. Instantly soothes, eliminates congestion and soothes the skin.
Sothys Soothing SOS Serum is ideal for quickly neutralising permanent or temporary sensations of discomfort, and limiting its further appearance. It's basic ingredient – SPA™ Thermal water*: natural mineral spring water from protected environment regulates various skin's physiological mechanisms, slows down the ageing of connective tissues and restores them, as well as forms a protective film on skin's surface. The serum also contains the blue Ageratum leaf extract that improves skin's immune system, eliminates inflammations and irritations. And panthenol softens and prevents the skin from drying.
The Sothys Soothing SOS Serum is paraben- and fragrance-free, without artificial colorants, hypoallergenic, dermatological and ophthalmological tested.
Apply Sothys Soothing SOS Serum on a thoroughly cleansed face and neck skin or locally, on problematic areas, in the morning and/or evening. Can be used in addition to the usual cream when the skin is temporarily sensitised or experiencing a sensitivity/discomfort "peak".