Ilike Probiotic Day & Night Treatment with Elderflower and Blackberry – 1.7oz
🔍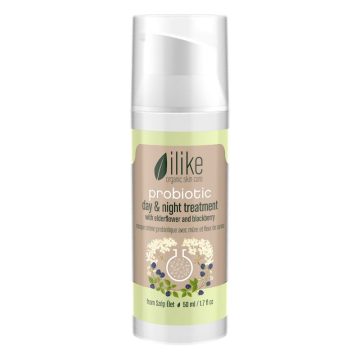 Ilike Probiotic Day & Night Treatment with Elderflower and Blackberry – 1.7oz
$97.50
Benefits
helps to improve skin microbiome
deeply hydrates
smoothes skin
brightens skin
skin looks rejuvenated and soft
Labor Day Sale 15% Off Code: labor22
Description
Ilike Probiotic Day & Night Treatment with Elderflower and Blackberry
This unique cream mask can be used on face, neck and decollete, and can even be left on overnight to work for a healthy skin microbiome. Probiotics heal and renew the skin, herbal oils deeply hydrate, Lactic Acid brightens the complexion, while powerful antioxidants slow the aging process.
Clinically proven results:
Probiotic Day & Night Treatment mask for face, neck and decollete increased the turgor of the skin, provided deep hydration and radiance to the skin in 100% of users while providing an average 12% increased turgor in 4 weeks.
Report Nr 498710/17/JSH
How to use: Apply to cleansed skin over entire face, neck and decollete area and leave on for 15-20 minutes. It can be left overnight. Remove any residue with a damp face towel. Finish with an ilike toner, serum, and moisturizer. Recommended use is 1-2 times per week or as needed.
Ingredients: Castor Seed Oil, Grapeseed Oil, Elderflower, Blackberry, Shea Butter, Bentonite, Lactococcus Ferment Lysate (probiotic), Seaweed, Red Grape Skin, Sunflower Oil, Lactic Acid — OPCs (Oligomeric Proanthocyanidins), Polyphenols, Kaempherol, Quercetin, Anthocyanins, Bioflavonoids, Resveratrol, Vitamins A, B, C, E and H, Carotene (Provitamin A), Essential Fatty Acids, Biosugars, Fruit Acids, Pectins, Tannins, Iron, Mineral Salts, Trace Elements.