Nelly De Vuyst Soothing Lotion – 3.38 fl/oz
🔍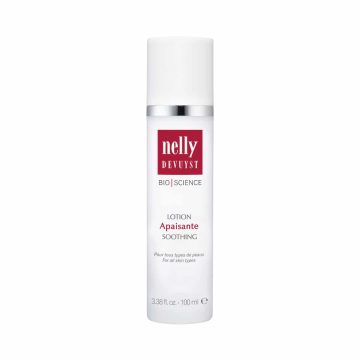 Nelly De Vuyst Soothing Lotion – 3.38 fl/oz
$59.00
The Nelly De Vuyst Soothing Lotion is specifically designed for hyper-sensitive, intolerant skin presenting dark circles and puffiness. Formulated with soothing and decongesting ingredients to instantly relieve irritation, tingling or itching sensations.
Labor Day Sale 15% Off Code: labor22
Description
Nelly De Vuyst Soothing Lotion
Description: A soothing and decongesting lotion especially recommended for hypersensitive, intolerant skin or skin showing dark circles and puffiness. A hypoallergenic, paraben-free, fragrance-free, alcohol-free formula.
Skin Concerns: Hypersensitive and intolerant skin, skin prone to rosacea, eczema or psoriasis, under-eye puffiness and dark circles

Formulation: Light fluid mist
Size: Retail 100 ml

Active Ingredients: Cornflower Water, Tannic Acid, Rose Water
Functions:
 Instantly soothes the skin
 Desensitizes hyper-reactive skin
 Prevents burning or itching sensations and irritation
 Antioxidant action to neutralize free radical damage
 Ideal to use as a soothing compress – postoperative skin soother (IPL, Chemical Peels, Microdermabrasion etc.)

Directions: For daily use, following cleansing of the skin. Spray over the face and the neck or apply locally as a compress for 10 minutes to soothe and decongest skin. Ideal for reducing the appearance of dark circles and puffiness.
Key Ingredients
Tannic Acid – Has a protective effect on the skin. Soothes minor burns and sunburn.
Cornflower Water – Natural anti-inflammatory properties soothe and condition sensitive skin.
Rose Flower Water – Helps maintain skin's natural pH; helps control excess oil. Anti-inflammatory action reduces redness, irritation, and acne. Astringent properties help clean pores and tone skin.
Centaurea Cyanus (Cornflower) Flower Water, Tannic Acid, Methylsulphonyl Methane, Rosa Centifolia Flower Water, Phenoxyethanol, Dehydroacetic Acid.