Nelly De Vuyst Cleansing Milk Cellular-Matrix – 5.07 fl/oz
🔍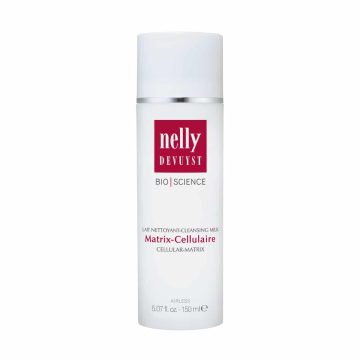 Nelly De Vuyst Cleansing Milk Cellular-Matrix – 5.07 fl/oz
$59.00
The Cleansing Milk Cellular-Matrix is the ideal cleanser for removing impurities and all traces of waterproof makeup on the face, neck and eye contour of mature skin presenting visible signs of aging (wrinkles, fine lines, sagging, etc.). Made with anti-aging and soothing ingredients such as salmon DNA and allantoin, the Cleansing Milk Cellular-Matrix helps maintain a youthful appearance. The skin feels fresh, well hydrated and perfectly cleansed.
Labor Day Sale 15% Off Code: labor22
Description
Nelly De Vuyst Cleansing Milk Cellular-Matrix
This soothing cleanser is ideal for removing impurities from your skin along with all traces of makeup from your face, neck, and eye area. Formulated with healthy aging ingredients to support a youthful appearance, your skin will be left looking rejuvenated and feeling clean, fresh, and hydrated.
Who Will Love It
All skin types including those with sun damage or wrinkles, devitalized, scarred or pigmented skin.
Recommended Use
Apply to dry skin. Gently massage and remove with soft warm washcloth.
Key Ingredients
Salmon DNA: 

Promotes collagen synthesis, skin healing, and elasticity for tighter, firmer skin. Brightens dull, patchy skin and improves acne scars.

Allantoin: Increases skin's moisture absorption and promotes cellular regeneration. Encourages natural exfoliation and protects your skin against damage.
Vitamin E: 

Soothing, antioxidant, protects skin from free radicals and external aggressors.
Water (Aqua), Isostearyl Isostearate, Butylene Glycol, Cetearyl Alcohol, Ceteareth-20, Glycerin, Phenoxyethanol, Dehydroacetic Acid, Fragrance (Parfum), Allantoin, Acrylates/C10-30 Alkyl Acrylate Crosspolymer, Triethanolamine, Ascorbic Acid, Ascorbyl Palmitate, Citric Acid, Sodium DNA.