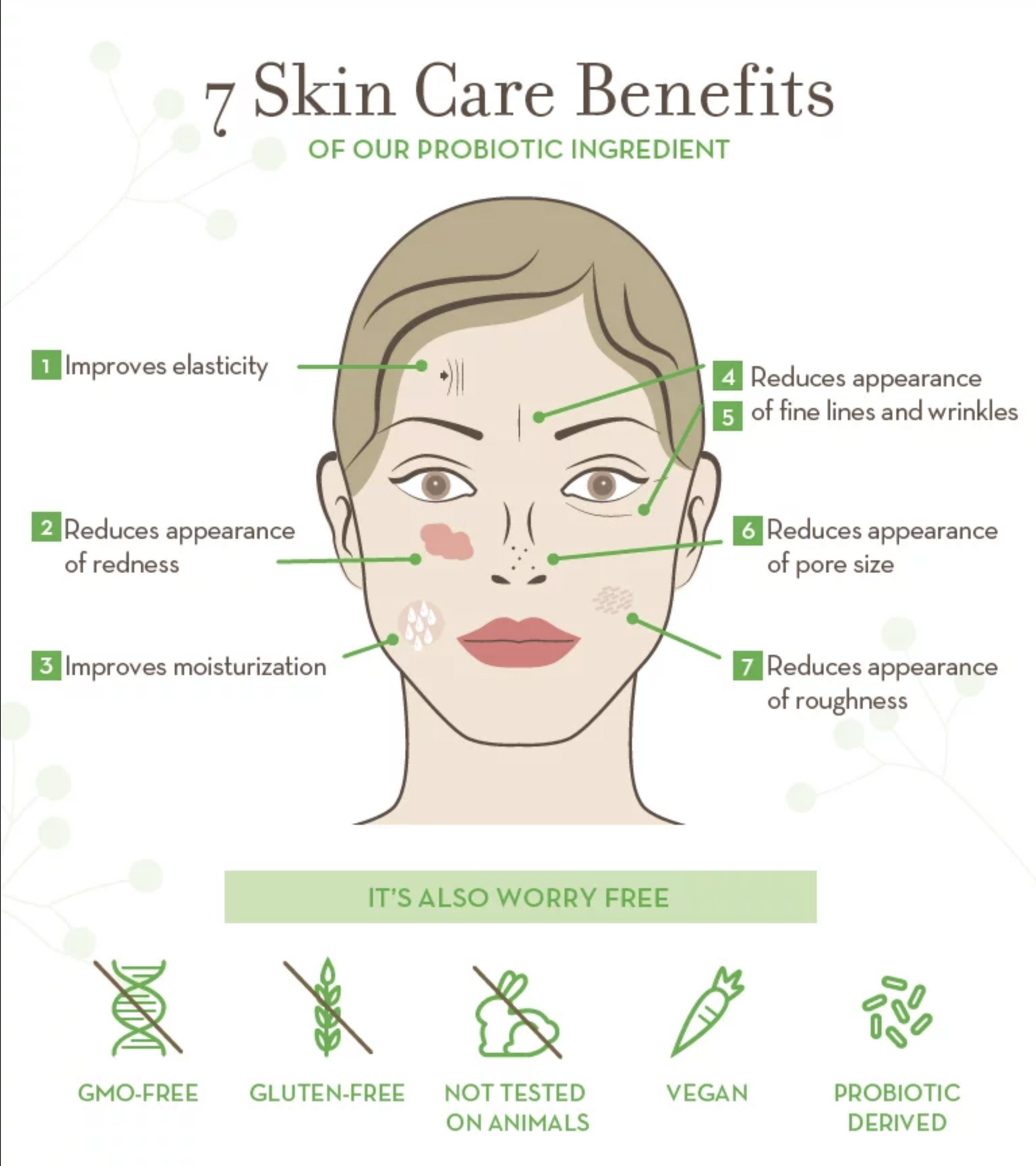 7 Benefits of Probiotic Skin Care
Probiotics aren't just for your gut health; they contribute to healthy skin, too!
If you're interested in beauty and health and how the two can be intertwined, it's likely you've heard about probiotic skincare before. Probiotics are live bacteria and yeasts that naturally live in your body. While bacteria may sound like a bad thing when we talk about food and beauty products, fear not: probiotics are the good bacteria that help keep your internal microbiome diverse and strong. Probiotics are great for keeping your body healthy, reducing inflammation, and more when you ingest them. However, there are also benefits to using organic probiotic skincare. That is, skincare infused with live, good bacteria. If you want to know why probiotic skincare could be your skin's new best friend, here are the top seven benefits of probiotics.
1. They can strengthen your skin's surface against environmental impacts.
Using skincare with probiotics helps to stabilize your skin's microbiome, which in turn has many benefits. One such benefit is that your skin will have a renewed strength against impacts of your environment. That could be damage from pollution in the air, sun damage, or wind damage. Any of these environmental impacts can have a negative effect on your skin's texture and clarity.
2. They improve your skin's hydration and moisture barrier.
Having stability within your skin's microbiome through the use of probiotic skincare products also means that your skin will be able to retain moisture better than it normally would. A healthy and table skin environment means a healthy and stable moisture barrier, so your skin can get—and stay—moisturized more easily.
3. They can balance acne-prone skin.
Probiotics, though they are themselves bacteria, can also be beneficial to acne-prone skin. Those who have struggled with acne caused by bad bacteria may shy away from probiotics at first, but probiotic skincare populates your skin with all the good bacteria it needs, which can act as a shield against the bad, acne-causing kind.
4. They can fight irritants that cause redness and inflammation in skin.
Using probiotic skincare products helps introduce your skin to the good bacteria it needs to regulate and shield itself from outside factors. This includes keeping your redness and inflammation levels down, as healthy skin populated with good bacteria is stronger in the fight against irritants. A strong skin microbiome can also keep your skin balanced, reducing the risk of afflictions like rosacea or eczema taking hold of your skin look and texture.
5. They can minimize the appearance off fine lines and wrinkles
Since probiotics contribute to a healthy, balanced microbiome on your skin, they also work to help minimize visual signs of age, namely fine lines and wrinkles. Restoring your skin's balance can lend itself to improving overall elasticity. That skin elasticity component is key to keeping your skin looking youthful, glowing, and wrinkle-free. Probiotic skincare has also been linked to increased production of collagen, which helps in fighting the look of these visible signs of age.
6. They can improve skin pH.
With all the balancing probiotic skincare does for your skin, it only makes sense that probiotics also balance your pH levels. As your skin ages, its pH becomes higher and thus unbalanced. This also leaves the skin susceptible to lower collagen productions, a loss of elasticity, and more damage. Probiotics help to lower your pH levels, leaving your skin stronger and leveled out. A level pH balance also helps the rest of your skincare products work better, which means more moisture from your moisturizing creams and better results from your skin serums and exfoliants!
Best Selling Probiotic Skin Care Products
7. They are safe for all skin types.
One of the best benefits of probiotic skincare products is that they are not just for one skin type. No matter your skin type, you can find a probiotic that will work for you. Probiotics are formulated to provide hydration and anti-aging benefits without irritating skin. From dry skin to oily, and sensitive skin to acne-prone, probiotics will work with your natural skin type and texture, not against it.
If you're looking to invest in more natural and proven skincare products, probiotics could be the new skincare trend that suits you. Probiotics within your skincare can contribute to improved skin tone, texture, hydration level, and can protect it against further damage. Organic probiotic skincare products are an easy way to give back to your skin and give it much-needed TLC after years of searching for the perfect routine.