Nelly De Vuyst BioAcne Serum – 0.5oz
🔍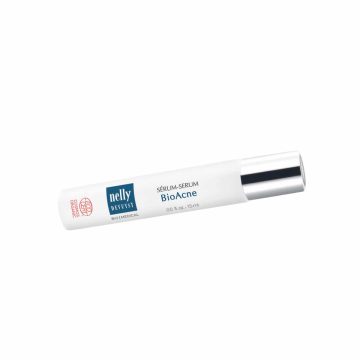 Nelly De Vuyst BioAcne Serum – 0.5oz
$46.00
Targeted treatment ideal for localized imperfections of acne-prone skin, such as papules and pustules. Contains a synergy of anti-seborrheic and keratolytic ingredients that help dry out pimples while accelerating their healing. A practical and efficient skin care product to carry everywhere with you for achieving flawless skin.
Labor Day Sale 15% Off Code: labor22
Description
Nelly De Vuyst BioAcne Serum
Dry out pimples fast with this efficient, targeted treatment for acne-prone skin. Conveniently accelerate the healing of blemishes and attain flawless skin at home or on-the-go. This unique serum reduces redness and soothes inflammation, leaving you with skin this is noticeably clearer and even-toned.
COSMOS® ORGANIC certified by Ecocert® Greenlife, hypoallergenic, vegan, non-comedogenic, paraben-free, alcohol-free, gluten-free, and not tested on animals
Localized treatment that reduces the appearance of imperfections
Powerful antibacterial cleanser for acne-prone skin
Tightens and reduces the appearance of pores
Deeply cleanses pores
Absorbs sebum
Soothes the skin without irritating it
Who Will Love It
Blemish prone, including sensitive skin types.
If you have continuous breakouts, please take enroll in our ACNE CONSULTATION program for more specialized help.
Recommended Use
Apply daily to blemish-prone areas. This serum is concentrated, no need to roll over the same area multiple times. Simply, roll one time over each area.  Dry skin types should first apply Nelly De Vuyst Sensitive Skin Extract. This will open the skin to receive the BioAcne Serum as well as provide the moisture needed by dry skin.
Key Ingredients
Bacteriostatic Anti-Acne Complex: Natural antibacterial cleanser, deeply penetrates to remove sebum
Thyme Extract: Powerful antibacterial cleanser, reduces the appearance of pores, deeply cleansing, purifies skin
Salicylic Acid: Regulates sebum production, unclogs pores, dissolves comedones, prevents scarring, brightens the complexion
Lavender Essential Oil: Soothing, reduces redness, purifying, antibacterial, revitalizing
Tea Tree Essential Oil: Antibacterial and antifungal, purifying and toning, soft texture
Magnolia Bark Extract: Antibacterial, soothing, antioxidant, reduces signs of premature aging
Thymus Vulgaris (Thyme) Extract*, Alcohol**, Arctium Lappa Root Extract*, Urtica Dioica (Nettle) Extract*, Lavandula Angustifolia (Lavender) Flower Extract*, Propanediol, Salicylic Acid, Silver Citrate, Magnolia Officinalis Bark Extract, Michelia Alba Flower Oil, Citrus Aurantifolia (Lime) Oil*, Lavandula Hybrida Oil*, Tea Tree Leaf Oil*, Citrus Aurantium Dulcis (Orange) Peel Oil Expressed*, Arginine, Glycerin (Vegetal), Levulinic Acid, Sodium Levulinate, Potassium Sorbate, Citric Acid, Aqua.