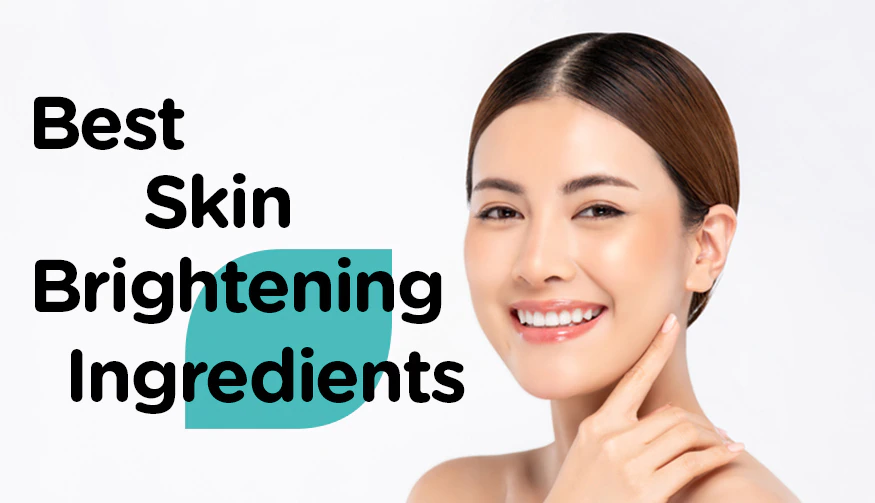 11 Natural Organic Skin Brightening Ingredients For Glowing Skin
Skin care professionals and their clients are increasingly drawn to natural brightening ingredients due to the rising demand for sustainable, natural, and organic products as well as treatments for hyperpigmentation. Hyperpigmentation is a common issue that can be caused by various factors, such as sun exposure, hormones, or even genetics.
Most individuals who are looking for products to lighten their skin often turn to more aggressive and chemically-laden treatments that promise fast results. While these products can be effective, they also come with many potential risks and side effects. For those with sensitive skin, the ingredients in these harsher treatments may cause sensitivities, redness, and inflammation.
Kojic acid is a naturally-occurring substance produced as a by-product of the fermentation process during the production of Asian food and drink items such as soy sauce, rice wine, and other fungi. This potent skin-lightening agent works by gently exfoliating the top layers of skin cells to help reveal brighter, smoother skin.
Kojic acid is an effective ingredient for skin lightening, brightening and glowing. It works by preventing the production of melanin, the pigment responsible for giving skin its color. By blocking tyrosine's formation, it stops melanin from forming and lightens any dark spots on the skin. In addition to this, its antioxidants.
Azelaic acid is a natural skin lightening agent derived from three grains: wheat, rye and barley. This powerful acid has various beneficial properties, such as antibacterial, anti-inflammatory and melanin inhibiting effects that make it a great choice for reducing the appearance of skin blemishes and dark spots.
Bearberry extract, derived from a plant of the same name, is a natural ingredient with remarkable skin-lightening properties. It contains antioxidants and a compound known as arbutin, which is responsible for its whitening abilities. Arbutin is similar to hydroquinone – the active ingredient in much over-the-counter skin lightening.
Citrus extracts are derived from citrus fruits such as grapefruit, lemon, lime, pomelo and orange, and it is a source of vitamin P (bioflavonoids) and vitamin C (ascorbic acid). Vitamin C, the hero element, helps to neutralize free radicals, which can cause premature aging of the skin. It is a potent agent that helps to minimize skin damage, build collagen and elastin, reduce melanin production, as well as promote skin peeling and skin growth. Citric acid helps with the skin-lightening mechanism by reducing the cohesion of the cells on the epidermal surface, helping to stimulate cell turnover and renewal.
Daisy flower extract contains tartaric and malic acids, making it a valuable ingredient with its lightening and exfoliating properties. Daisy flower extract contains a naturally occurring substance called L-arbutin that naturally lightens skin by modulating various pathways of melanin synthesis, including melanocyte and tyrosinase activity. Daisy flower extract also assists in firming the skin, has antiseptic properties, and is effective in fighting wrinkles.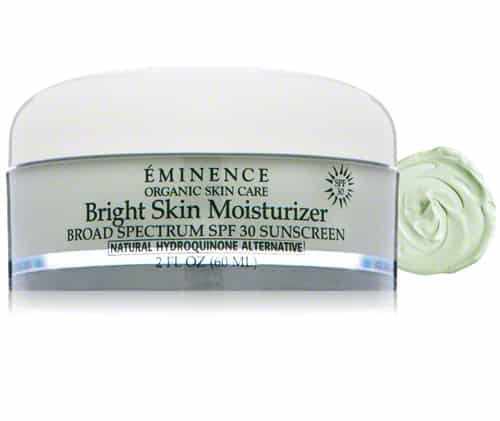 Bright Skin Moisturizer Broad Spectrum SPF 40 Sunscreen hydrates, and protects the skin during sun exposure to prevent premature aging while helping even out the skin tone.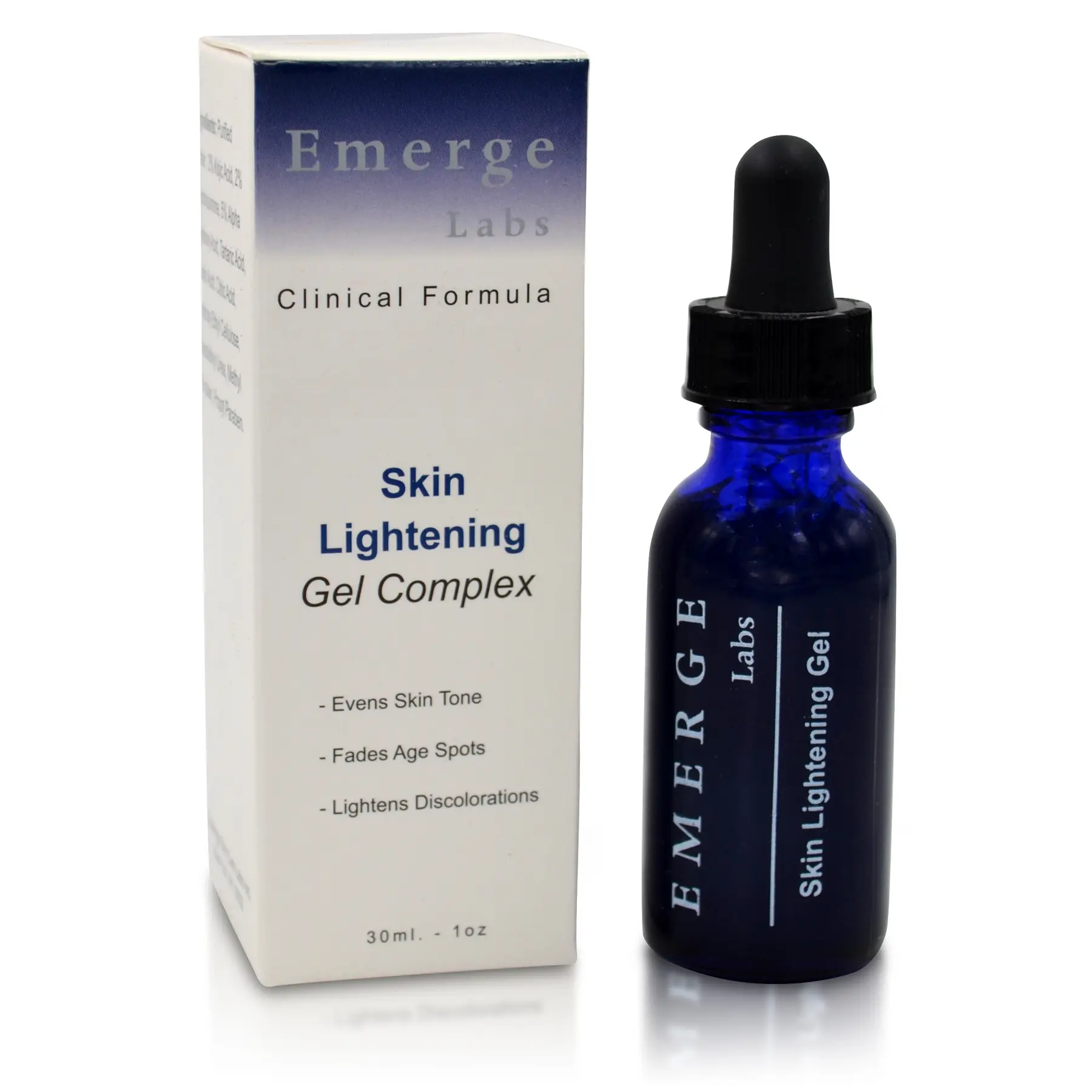 Visibly brightens and evens skin tone. Fades dark spots, age spots, skin discoloration, uneven skin tone, sun spots, freckles, and acne scars. Can be used on the face, hands, chest, knees, elbows, and other sensitive skin areas.
Brightening Fluid helps boost clarity and protects the skin from free-radical damage. W. Complex, which features vitamin C and azeloglycine, stimulates collagen production and reduces the acceleration of melanin pigments to minimize dark spots.
Licorice extract is a potent natural skin lightener often used for the treatment of sun damage, age spots, melasma and other skin problems. Licorice extract also helps control excess oil and calms down puffiness and itching. Glabridin is the compound found in licorice root that lightens dark spots by inhibiting tyrosinase and stopping melanin production. Licorice root also produces liquidity, which enhances lightening by dispersing melanin. Licorice extract also prevents new dark spots from forming and has anti-inflammatory properties.
Mulberry extract contain retinoids, ascorbic acid, alpha-tocopherol and riboflavin, all of which are highly beneficial for brightening the skin. Mulberry extract is known for its natural skin brightening properties, and the ability to help fade away dark spots and pigmentation caused by aging and exposure to the sun. It lifts hyperpigmentation by blocking tyrosinase production and decreasing melanin. It also contains powerful antioxidants that can neutralize the harmful effects of environmental pollutants to minimize skin damage.
Niacinamide, also known as vitamin B3, is one of the most effective skin care ingredients at visibly reducing dark spots and hyperpigmentation. Niacinamide is an effective skin lightening compound that works by inhibiting melanosome transfer from melanocytes to keratinocytes. Niacinamide can also reduce the appearance of fine lines and wrinkles, reduce pore size, minimize acne, decrease oil production and even skin tone. The ingredient often works best when combined with other skin lightening treatments and antioxidants. In addition to its skin lightening benefits, niacinamide also boosts the skin's ceramide levels and is deeply hydrating.
Resveratrol is a naturally occurring antioxidant found in the skin of grapes, giant knotweed, peanuts, all berries, and even dark chocolate. Resveratrol can act as a skin-lightening agent that inhibits tyrosinase activity. It also fights photo-aging by inhibiting the synthesis of melanin, making the skin less pigmented. It also possesses anti-inflammatory and wound-healing properties, is antibacterial, and can help reduce the severity of acne. Resveratrol has also been shown to prevent sun damage from UVA and UVB radiation, helping prevent premature aging and maintain the skin's youthful appearance.
Saffron is full of antioxidants, including vitamin C, and it has anti-inflammatory and antibacterial properties. Saffron shows excellent tyrosinase inhibition activity for brightening the skin. Saffron also has the abilities to calm inflammation, increase cell turnover and can help wounds heal faster. As an antioxidant, it can protect against UV damage and pollutants that produce free radicals. Saffron helps skin recover from environmental stressors, is rich in minerals and contains two types of powerful carotenoids: crocin and crocetin. These carotenoids are believed to be effective in damage repair and ensuring overall cellular health. They help the skin recover from daily environmental oxidative damage and sun damage, and they help heal everything from photo damage to loss of skin suppleness.
Willow bark extract is derived from the white willow tree and contains flavonoids, polyphenol and tannin compounds in high concentrations. Willow bark contains a compound called salicin that is known to be a potent skin lightening agent. This compound works by inhibiting the production of melanin. By reducing melanin, willow bark can effectively lighten the skin and remove unwanted pigmentation. The polyphenols and flavonoids have powerful antioxidant properties that build up the skin's barrier against free radicals, external pollutants and environmental damage.
Turmeric is a miracle skin-care ingredient that provides numerous benefits for glowing, healthy skin. It's packed with curcumin, a powerful antioxidant that can help to counteract free radical damage. It can inhibit excess melanin production, therefore lifting hyperpigmentation and preventing the skin from further darkening. Turmeric also can help with lessening acne and psoriasis, reducing inflammation, calming skin rashes, balancing the skin, reducing sun damage, and making the skin more supple.