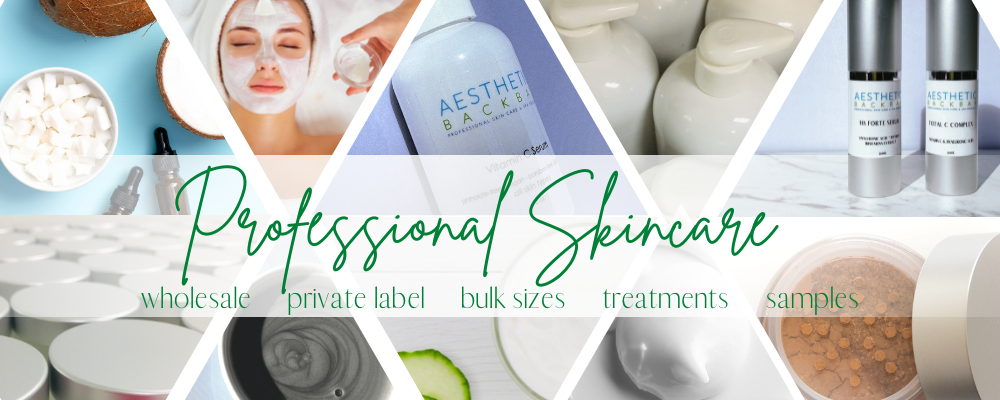 Discover Professional Organic Skin Care Lines for Estheticians in 2023
Are you a skin care specialist searching for organic skincare lines to give your practice an edge and offer your customers the most efficient treatments? Look no further! With more people interested in cruelty-free, eco-friendly natural items these days, it is essential that estheticians stay aware of new trends and have up-to-date knowledge about what's available.
This blog will introduce top professional organic skin care solutions especially suited for estheticians. We'll also include specialized treatment tailored towards different kinds of skins plus other pro techniques and discuss how ongoing training plays a role when offering such services. Embarking with us down this road could result in healthier practices using cleaner products, thus granting radiant complexions!
Key Takeaways
Discover professional organic skincare brands for estheticians in 2023

Learn about product knowledge, treatment techniques and industry trends to provide the best guidance and recommendations

Utilize natural ingredients such as chemical-free peels, organic facials & body treatments to achieve optimal results
Organic Skin Care Brands for Professionals
When treating different skin types and concerns, professional skincare brands that focus on organic ingredients are essential for any esthetician. Up-to-date knowledge of top-performing natural skincare products will ensure clients get healthier, more radiant skin with effective results. The following list contains prominent professional organic skin care providers: Eminence Organic Skin Care, Comfort Zone, Naturopathica, OSEA Malibu, Biodroga, Ilike Organics Skin Care, and Physiodermie. Dr Grandel's Skincare Range & Phyris' Skincare Products offers customized solutions for individual needs or preferences. With these respected names in your toolkit, you can rest assured that quality treatments are available to provide optimal outcomes each time!
Eminence Organic Skin Care
Eminence Organic Skin Care is dedicated to providing customers with natural, eco-friendly skin solutions tailored for their individual needs. High-quality products are produced from ingredients sourced directly from the brand's farms. These all help meet various skin concerns while having a low environmental impact. This comprehensive product line guarantees that estheticians have everything needed to ensure successful skincare treatments and lasting results on any complexion or condition for each client they work with!
Comfort Zone
Comfort Zone is an Italian high-end brand devoted to ecological and holistic treatments using sustainable resources. This company provides a distinctive selection of products that unites advanced science with nature's best, creating effective skincare options for estheticians.
Featuring a focus on sustainability as well as quality, Comfort Zone is the ideal choice for skin care experts striving to give their clients luxury services while keeping environmental concerns in mind.
Naturopathica
Naturopathica is a professional range of organic skincare that provides clean, natural and effective treatments to target specific skin care worries while fostering the health and well-being of your clients' complexion. This brand utilizes only premium quality ingredients in its solutions so that you can be assured they are receiving top level attention for their dermis.
The Naturopathica collection offers various products that permit estheticians to customize every service according to individual requirements – catering to exactly what each person needs regarding his or her skin's special demands.
OSEA Malibu
At OSEA Malibu, clients are guaranteed to get the best professional skincare treatments for their skin tone and achieve younger-looking skin. This premium organic skincare brand only uses natural ingredients in its formulations that deliver visible results addressing various skin concerns while remaining plant-based, vegan, and cruelty-free. Offering a wide selection of products allows estheticians to customize treatment options according to each individual's needs from among all of today's top professional skincare brands.
Ilike Organics Skin Care
At Ilike Organics Skin Care, you can find various organic, natural and cruelty-free items suitable for all skin types. Our products use only top-quality ingredients to provide the best possible care your clients can get.
With us having such an extensive selection of treatments available at hand, estheticians can tailor their offerings according to each individual's needs when it comes down to looking after their skin.
Biodroga
Estheticians searching for the ultimate skincare treatments should look no more Than Biodroga – a brand that seamlessly blends nature and science to create innovative solutions. Whether it's sensitive skin, very dry skin or oily skin issues, this company's products provide an extensive range of specialized remedies explicitly tailored to address these concerns, and it is committed to offering only quality items with cutting-edge technological advancements. It is easy to see why so many professionals choose Biodroga when they require top-tier results for their clients' needs.
Physiodermie
At Physiodermie, we specialize in crafting bespoke skincare solutions that specifically target each individual's skin needs. This brand offers an extensive range of products to tackle various skin issues and deliver optimal results for your clients' complexions.
Our approach is all about customization combined with efficacy – providing professional estheticians the perfect opportunity to provide their customers with personalized treatments and remarkable outcomes.
Dr. Grandel Skin Care
Dr. Grandel Skin Care provides top-notch, natural skincare solutions for skin health and beauty. This brand is committed to incorporating only the strongest naturally derived components into its formulations. This ensures customers can access effective treatment for their skin needs.
Estheticians can also conveniently design treatments tailored specifically toward each customer's requirements with Dr. Grandel Skin Care's broad selection of products available at hand for use in providing care services as needed by clients.
Phyris Skin Care
At Phyris Skin Care, natural and scientific ingredients combine to create professional skincare products that target any skin concern. From cleansers and toners, moisturizers and serums, masks and exfoliators for the face to eye care products like creams or balms – plus sun protection, every aspect is covered. With this comprehensive range, estheticians can provide custom solutions tailored specifically for each client's unique needs when it comes to their skin care regimen!
Customized Treatments for Different Skin Types
Estheticians know that the condition of every client's skin is unique, so providing personalized treatments will likely bring about optimal results. By recognizing and considering various complexion types, estheticians can craft customized treatment plans to address individual issues while still promoting overall skin health.
This section will go into detail on specific regimens for diverse skins – covering sensitivities, methods for oily and blemished faces as well as nourishing very dry dermis in depth. All these subsections aim to demonstrate the distinct advantages of each approach available, which allows those treating patients make informed choices when selecting appropriate solutions based on their needs and preferences.
Sensitive Skin Solutions
For people with sensitive skin, special products can provide relief and protection. Natural remedies like aloe vera, chamomile and oatmeal are known for their anti-inflammatory properties that help reduce discomforts such as redness, itchiness and inflammation. Estheticians understand how to offer the best treatment options without aggravating delicate skin.
They usually use dedicated treatments specifically formulated for this purpose, providing a solution while minimizing irritation or pain caused during therapy sessions.
Targeting Oily and Acne-Prone Skin
Those with oily and acne-prone skin must maintain a balanced oil production while treating any breakouts. Products containing salicylic acid or benzoyl peroxide can be used for this purpose, helping reduce the presence of excess sebum and blemishes on the skin's surface.
Exfoliation and deep cleansing techniques are important for controlling your complexion if you struggle with oilyness or are prone to acne. These steps make it easier for you to obtain clear, healthy-looking skin.
Nourishing Very Dry Skin
For people with very dry skin, proper hydration and moisturizing treatments are a must to restore the natural barrier of their complexion. Ingredients such as ceramides or hyaluronic acid provide intense moisture for this delicate skin type. Exfoliating regularly and using quality moisturizers is beneficial to achieve healthier skin overall. This will create healthy-looking glowing skin for those suffering from even severely parched complexions due to insufficient hydration.
Professional Treatments and Techniques
Estheticians must have a deep knowledge of professional treatments and techniques in order to offer the most suitable skincare experiences. This includes organic facials, chemical-free peels, and body treatments utilizing natural products. By becoming familiar with these methods, estheticians can refine their skillset while staying up to date on industry standards.
To come full circle: It is key for estheticians to select high-quality skin care brands and utilize specialized treatment approaches accordingly.
Organic Facials
Organic facials are a great way to pamper your skin without using harsh, chemical-based products. The natural ingredients used provide deep hydration and nourishment – like fruit enzymes, essential oils, etc – leaving the complexion refreshed and revitalised for an eco-friendly skincare experience. Through organic facials clients can treat their skin while caring for nature simultaneously!
Chemical-Free Peels
For healthier and more luminous skin, chemical-free peels provide a mild form of exfoliation that does not use hard chemicals. These treatments typically contain natural ingredients such as fruit enzymes and lactic acid to clear away dead skin cells, leaving behind a smooth complexion for your clients. Using these gentle alternatives instead of traditional chemical peelings, estheticians can give their customers the safest way to achieve brightening results without taking risks with harsh substances.
Organic Body Treatments
Organic body treatments take a holistic view of skin care, utilizing natural elements to support whole-body health and well-being. These remedies commonly involve exfoliation, massage and hydration techniques meant to revitalize and nurture the skin's overall state.
By providing organic skincare services, estheticians can provide clients with an all-around treatment plan for their bodies, including those more complex clinical solutions for bodycare needs.
Training and Education for Estheticians
Estheticians need to stay knowledgeable in the industry, from product information and treatment methods. Keeping up with recent trends will ensure they offer their customers modern skincare solutions that employ effective techniques. Training and education should be an ongoing focus of theirs if they want to remain competitive within this field. To do so, they need to familiarize themselves with new products and regularly comprehend the hottest developments in their area of expertise. We shall discuss why each piece is significant while giving several pieces of advice about sources that can help them keep informed and competent in today's marketplace..
Product Knowledge
Skincare professionals need to be knowledgeable about the different brands, products and ingredients available on the market for them to provide informed advice regarding their clients' particular skin issues. Keeping up with recent skincare developments enables estheticians to offer more precise recommendations that fit each customer's needs.
To help broaden one's product knowledge base, attending courses or consulting relevant magazines and online platforms are great sources of information.
Treatment Techniques
Skincare treatments provided by estheticians require mastering techniques like chemical-free peels, organic body treatments, and facials to ensure an ideal client experience. To maintain up-to-date knowledge on industry trends, courses from educational institutions along with reading materials such as magazines & online sources, can be highly beneficial in sharpening skillsets related to treatment methods.
Staying Updated on Industry Trends
To effectively provide up-to-date skincare services, estheticians must stay informed of the latest developments in their industry. To accomplish this, it is important for them to continuously search for new information and resources that can improve their practices by introducing novel trends, products and techniques.
Enrolling in special advanced training sessions and reading trade magazines are effective tactics an esthetician can use when keeping abreast of field trends. Attending seminars or conferences centered around these topics may prove beneficial too.
Summary
Estheticians must remain current with recent industry trends, product expertise and treatment techniques to offer their customers top-quality skincare experiences. With the increasing popularity of natural, organic and cruelty-free skincare products, those in this field must keep abreast of new brands and treatments available. This will set them apart from other beauty professionals and ensure clients receive optimal care for their skin types utilizing professional strategies.
Continuous education on matters related to treating all kinds of skins along with staying informed about different types of customized services are key factors enabling aestheticians to provide outstanding outcomes when offering healthful organic brand selections as well as specialized solutions suitable depending on the client's needs, enhancing confidence building through positive results focusing at obtaining desirable effects desired by consumers investing into holistic array involving safe methods coupled promoting friendly environment applying ecologically conscious measures allowing reliable spa experience nurturing body inside out!
Frequently Asked Questions
What skincare brand do estheticians use?
Blissoma is a renowned skincare brand that has won the hearts of estheticians worldwide thanks to its holistic and organic products, which are just as powerful as conventional treatments but come without any irritation.
How do I choose a skincare line as an esthetician?
When selecting a skincare brand for use as an esthetician, various elements should be considered, such as the ingredients used, how effective it is in practice, the array of products available and whether they are up-to-date with current trends. One must also consider what retail options there are, pricing structures, and packaging styles.
By taking all these features into account, you can confidently select which skin care line works best for your individual needs – ensuring that you will have safe and high-quality products at hand and obtain satisfying results when treating clients' skin issues.
Which medical-grade skincare line is best?
Among medical-grade skincare, SkinCeuticals stands out as the top pick of patients. The other leading contenders are SkinMedica, ZO Skin Health, skinbetter science, Jan Marini Research Solutions for the Skins EltaMD and DefenAge & Alastin.
What are some of the top professional organic skincare brands for estheticians?
Regarding professional organic skincare for estheticians, some of the best brands include Eminence Organic Skin Care, Comfort Zone, Naturopathica, OSEA Malibu , Biodroga and Ilike Organics. Each brand utilizes natural and organic ingredients free from toxic substances while delivering highly effective skin care results. Not only do they nourish your complexion but they also protect it with their unique formulations, which can help bring back youthful vitality in aging skin or provide deep cleansing properties. Physiodermie by Dr Grandel and Phyris's Skin Care line completes this list of top-notch choices for all kinds of beauty regimes where high-end products meet quality standards without harming precious epidermis health!
How can estheticians customize treatments for different skin types?
Skin type and condition can be addressed through the skillful selection of products, techniques, and treatments by estheticians trained to personalize care for individual needs.