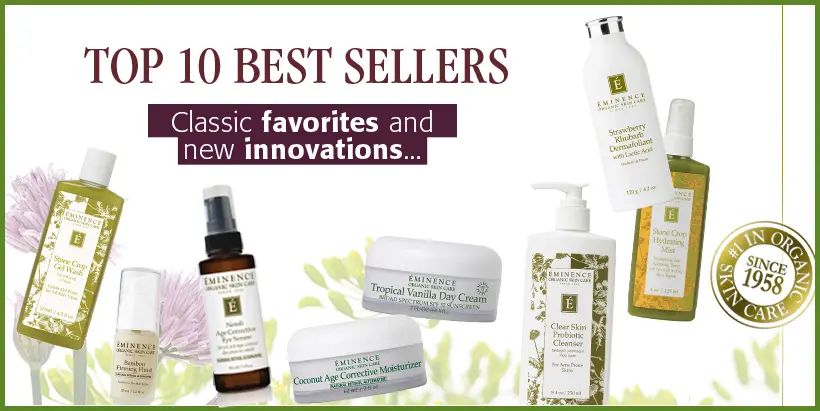 Best Organic Skin Care Products On A Budget
Keeping your skin looking amazing can be an expensive habit. The best skin care products and treatments can be ridiculously priced. At some point you have to wonder, is that $300 imported bee venom or vampire facial is really worth it? It's no secret that organic beauty products can be expensive. But in times of economic recession or hardship, what's a girl to do? The truth is, there are definitely more frugal ways to stay looking radiant, without compromising on superior organic quality.
Being thrifty with the right kind of products and a minimalist approach can actually save you money while restoring your natural beauty at the same time. We know better than anyone that the ultimate "beauty hack" is quality products with natural ingredients.
With the deals at OrganicSkinCare.com, you don't have to break the bank to feel healthy and look amazing. Be sure to read to the end of this article to get your exclusive limited time offer and important info about how to never miss out on other major deals in the future.
Is It Really Worth It?
Traditionally, buying organic hasn't generally been synonymous with a frugal lifestyle. In recent years things are changing pretty quickly though. According to a recent survey, around 80 % of Americans say they buy organic products on a regular basis. With the benefits now being widely published, market demand has drastically reduced prices on most product. People are willing to pay a slight premium for the best foods, so why should it be any different when it comes to skincare products?
According to this article by skininc.com, only 54 % of women say they exercise strict discrimination in their skincare product shopping habits. Only a little more than half of the women ensure that all their purchases contain purely natural ingredients. Is it really any better to put pesticides or chemicals on your skin instead of in your stomach!?! The article goes on to say the main reason women don't buy more organic skincare products is due to a lack of accessibility in the large retail chains, where they are used to making most of their purchases. 39% of women said they are willing to do what it takes to get natural products in the future and that's exactly why we started OrganicSkincare.com. We want to make these products accessible to women everywhere!
We know what you are thinking, accessibility doesn't necessarily mean it's in my budget range. Maybe you want all natural products but aren't sure which products are worth shelling out a little extra for? So how do you get the most bang for your buck? It only takes a couple of good products to start transforming your skincare routine. No worries, we have a holistic answer to this question that your skin and your bank account will love!
Which Products Are Worth The Extra Cash?
We all know beautiful skin starts with healthy skin. Rebuilding your routine on any budget should always start by purifying and healing skin. The best organic skin care products to start with are a solid exfoliant and moisturizer. This helps cultivate a healthy base layer of skin that won't need as much maintenance as skin damaged and polluted by cheap unhealthy products, which actually saves you money in the long run!
Proper exfoliation strips away the damage done by unnatural products. This gives you a fresh new pallet to heal and develop resilient skin. Each time you do this your skin will grow stronger and healthier by strengthening the new skin as it grows in. It is imperative to use organic exfoliants so you don't reintroduce problems to new skin layers and undo the purifying process.
*** Remember when exfoliating, don't get crazy. A couple of times a week is plenty.
Once you have scraped away all the junk, the next best product to introduce to your skin is an organic moisturizer. Daily hydration is what separates good skin from great skin. Not only will it reduce the occurrence of blemishes over time, but you will also age dramatically slower, and speed up the healing process. So what's the catch? Non-natural products have a tendency to actually reverse one or more of these benefits by contaminating the skin and causing irritation. For your skin to see real results, you need to go organic. The right moisturizer can be the most powerful product for your skin's long term health and beauty.
Don't forget, these things are just the beginning of an amazing skincare routine and everyone has different needs. If you reach out to us directly, we can make a more precise recommendation based on your skin profile and circumstances. Don't be a stranger! We love meeting the people who use our products and seeing their before and after pictures. : )
What Is The Budget-Friendly Solution?
At OrganicSkincare.com we carry only the best natural and organic skincare products on the market. We have a huge selection of elite brands, to help you give your skin the exact solution it needs. Even though we have the best of the best, we have options for people on any budget who are serious about their health and beauty. Need a high quality, budget-friendly exfoliant or moisturizer? We got you covered!
Eminence Strawberry Rhubarb Dermafoliant with Lactic Acid
This high-powered natural exfoliant doesn't just scratch the surface. The Lactic Acid penetrates the skin to breakdown impurities. The soothing combination of strawberries and the gentle rice exfoliant removes dead skin cells with ease. This is when the real magic happens. The vitamin loaded Rhubarb nourishes the skin, while chickpea flour keeps the skin from becoming overly oily. This gives your skin a bright balanced complexion and it's completely natural. At just $48.00 for 4.2 ounces, it's worth every penny.
FarmHouse Fresh Three Milk Ageless Moisturizer
When they say ageless they aren't kidding. In clinical studies with female participants over a two month period, this magnificent milk reduced the appearance of deep wrinkles by up to 45%! Powered by peptides, this formula instantly makes the skin firm and full. Daily use has even been shown to erase wrinkles around the nose and mouth. If it's good enough for Celebrity Makeup Artist Jamie Greenberg at a modest $33.00 price point, it might just be the right solution for budget-conscious shoppers. The best part is that it's vegan, gluten-free, and uses 95% natural ingredients.
Not only is this product one of the most advanced formulas under $50, but it's also reputation precedes itself and once you try it, it's not hard to see why.
ilike Rosehip Whipped Moisturizer
This one's a little more expensive but still an amazing value for such a high-quality product. Ilike Rosehip Whipped Moisturizer is the best solution if your skin is in need of some serious damage control. The therapeutic sensation of rosehip can handle almost any sensitive skin condition. The lemon oil complements this nicely by brightening skin tone without any of the abrasive side effects that artificial ingredients create.
We have tons of other cost-effective products based on your skin's needs check them out today or subscribe to the mailing list so you don't miss any of our sales on your favorite organic brands and products.
Limited Time Offer !!!
So if you read this far, we know you are all about the deals and boy have we got a deal for you. One of our favorite brands, Emerge Labs is running a limited time promotion that will get you free shipping, plus one of their cutting edge products for free on all orders over $150! Check out our selection here.
Emerge Labs is a great brand committed to putting out the best products developed from the latest skincare science, at the best price possible. With products that range from cosmetic applications to clinical level relief for chronic skin conditions, their product line is sure to give you amazing value for this limited time offer.
One of our favorite Emerge products is the Moist-24 Hydrating Moisturizing Cream which is definitely on the budget-friendly spectrum. You can stock up with this amazing offer or mix and match with the high performing Anti-Aging Swiss Apple Serum formula to really get your money's worth. Another great product that we recommend is Bio-Peptide Night Repair Cream. It works wonder's while you sleep!
This is the stuff the pros use, but you don't have to take our word for it. Check it out: