Biodroga MD Perfect Hydration Eye Care – 15ml
🔍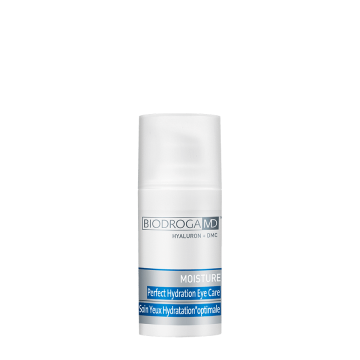 Biodroga MD Perfect Hydration Eye Care – 15ml
$68.00
• Optimally supplies moisture to the skin
• Promotes the skin's microcirculation
• Counteracts the appearance of dark rings under the eyes and puffiness
• Promotes resilience and elasticity of the skin
• Reduces fine wrinkles and wrinkles caused by dryness
• Protects the skin from external influences and the damaging effects of free radicals
Description
Biodroga MD Perfect Hydration Eye Care
BIODROGA MD MOISTURE Perfect Hydration Eye Care gives the skin what it needs most around the eyes: intensive moisture, thanks to a high hyaluronic acid content. In addition to pomegranate extract, yam root extract, and vitamin E acetate, other ingredients act in this highly complex, extremely skin-tolerant eye care product: the African para cress extract reduces fine wrinkles around the eyes. The skin appears regenerated and fresh. A complex of algae extract, escin, and caffeine supports the skin's microcirculation and minimizes the appearance of dark rings under the eyes and puffiness. Licorice root extract and D-panthenol have a soothing effect.  Hybrid sunflower seed oil and an olive oil derivative nourish stressed skin around the eyes.
*Free from emulsifiers, fragrance, and mineral oils, paraben-free.
How To Use:
In the mornings and evenings, apply evenly to the cleansed area around the eyes.
Key Ingredients: 
Hyaluronic Acid, Hybrid Sunflower Seed Oil, African Paracress Extract, Algae Extract
Suitable For:
Dry Skin
Size:
Retail (15 ml)