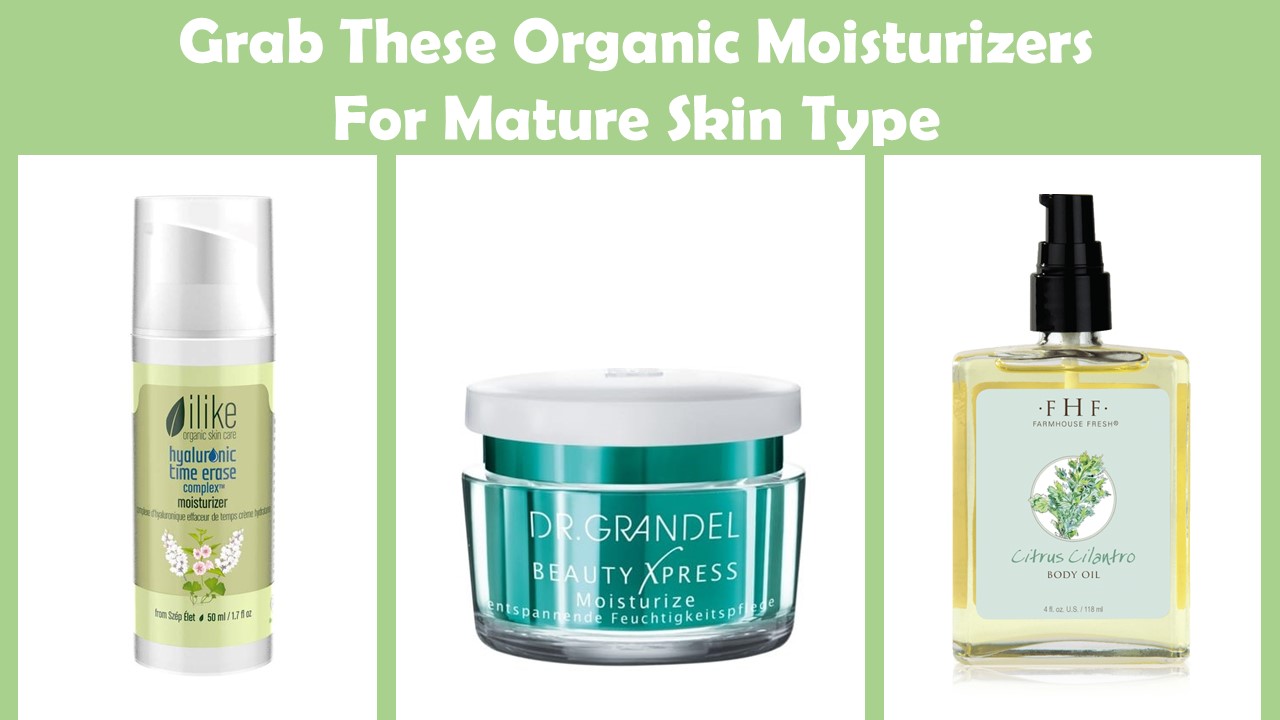 Top 7 Organic Moisturizers To Heal A Dry And Mature Skin
The choice of moisturizers for mature skin is quite different than what younger skin needs. That is because as we age:
our skin has a lesser moisture content

the fat content of the skin reduces

levels of collagen and elastin fall
Here is a quick list of the best organic moisturizers for mature skin, especially if your skin is dry!
How To Select The Best Organic Face Moisturizer For Aging Skin
The very first step before you select the best natural moisturizer for mature skin is to:
STEP – 1: Know your skin type
Step – 2: Choose the correct ingredient for your skin type
STEP – 3: Look for a product with the ingredient
STEP – 4: Make sure its safe for your skin (non-comedogenic, non-greasy) and environment
So, now let's take a look at ingredients to look for natural moisturizers for aging skin. 
The Best Organic Moisturizers For Dry And Aging Skin 
So, is your skin mature and, at the same time, dry or flaky too? Managing dry skin is a struggle! But how does mature, dry skin differ from a younger one? 
A dry skin type lacks moisture or hydration. But dry and mature skin lacks lipids or oils, even more than moisture. Thus, it is safe to say that dry and mature skin needs emollients and moisturizers that act as occlusives to prevent drying out!
So that takes us to a question. Are various moisturizers different in their ability to hydrate our skin? And the answer is YES!
Types Of Skin Moisturizers
So, there are three types of moisturizers
Humectants

Emollients

Occlusives
Humectants – Water Magnets 
Humectants are moisturizers that draw water to the topmost layer of your skin, usually from the environment or sometimes the deeper layer of the skin, that is, the dermis (this only happens if you live in an arid climate, by the way)!
A few examples of humectants are: 
Hyaluronic acids

Glycerin 

Salicylic Acids

Urea

Honey
Emollients (mature skin needs more of these)
Emollients improve the moisture content of your skin by boosting the levels of lipids or fats in your skin. 
fatty acids and fatty alcohols

ceramides

shea butter

squalene

cocoa butter

occlusive agents
Fatty emollients include jojoba oil, sunflower oil, castor oil, and octyl stearate.
So dry and mature skin type needs more;
lecithin

wax esters

vegetable waxes
Occlusives – Moisture Barrier
So, occlusive agents are moisturizers that prevent moisture loss through the skin. They help the skin to seal the moisture right there! A few of the occlusives are:
petroleum jelly (the most common and readily available occlusives)

beeswax

silicones

mineral oil

argan oil 

jojoba oil
Occlusives are heavier than emollients. So, use occlusives if you have a dry skin type.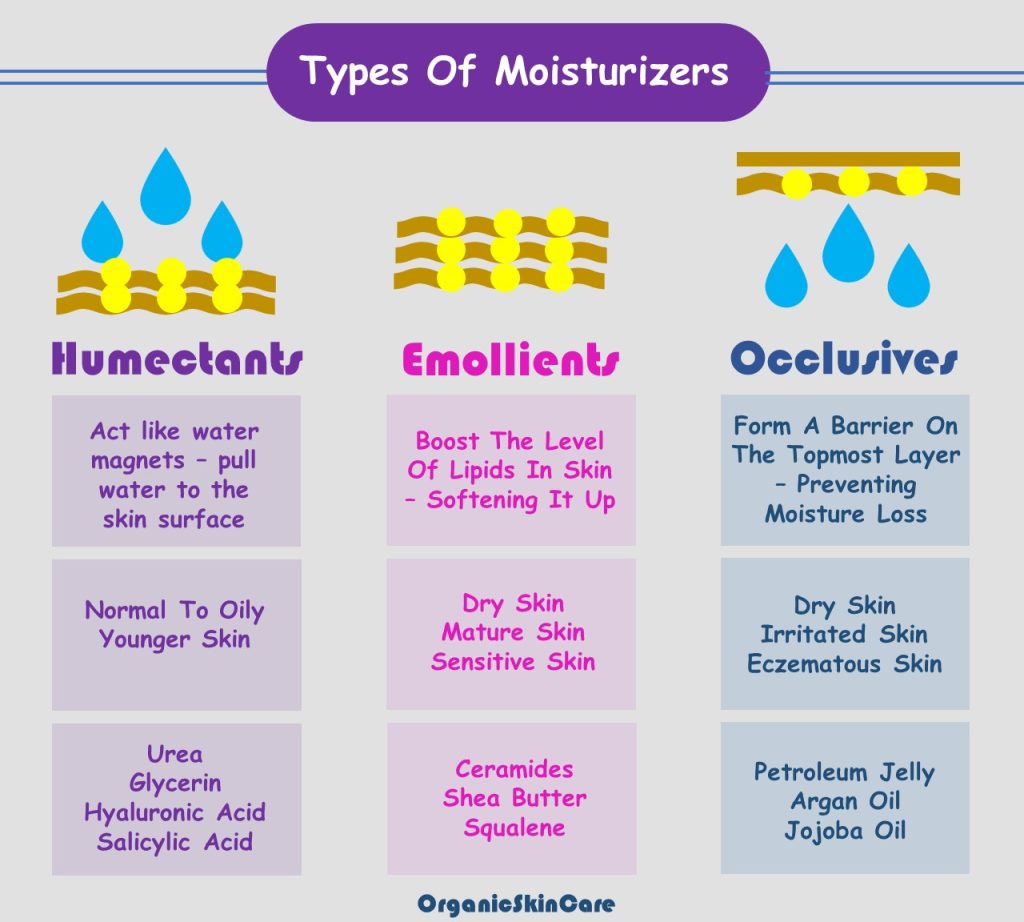 Ingredients To Choose The Best Organic Moisturizers
Ceramides
The outermost layer of skin that makes our skin barrier – is the stratum corneum. And ceramides are the lipids that hold the skin cells forming this barrier together! So, what ceramides do is that it makes your skin lock up water, preventing water loss. 
But as we age, the fatty content of our skin reduces. That leads to dry and dull-looking skin that makes the appearance of fine lines and wrinkles even more prominent. And that is where you will need ceramides in your skin care!
One more thing when it comes to ceramides is the packaging. It is good to have ceramide products in packaging like airtight bottles or tubes because exposure to light or air can reduce their effectiveness over time. So, avoid packaging such as jars where there is more exposure of the product to light or air!
| | |
| --- | --- |
|  Ceramides | Quick Facts |
| What they are | Lipids that makeup about 50% of the epidermis |
| What they do | Give the outermost layer of skin its barrier properties, replenish your skin with the fatty content that it has lost with age |
| When to start | Early to mid-twenties, morning and night |
| Suitable Skin Type | |
Phyris Ceramide Repair 
Regenerating and Hydrating Serum With Ceramides
Includes Ceramides, Vitamin B complex, and Soy Extracts
Strengthens your skin barrier
Instantly supplements stressed skin with suppleness
Pipette bottle packaging is a plus!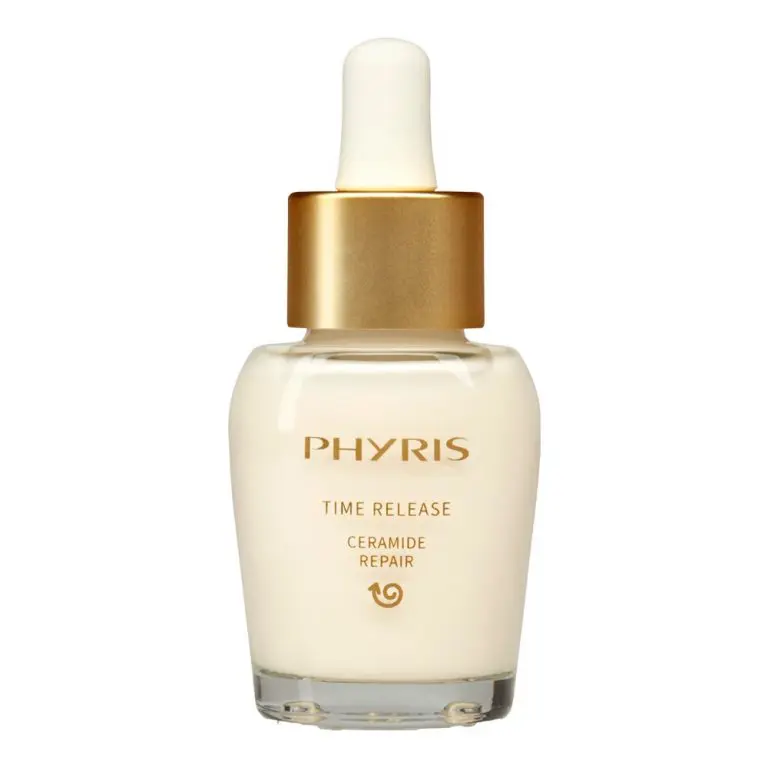 Shea Butter
Shea butter is plant oil from nuts you usually get on shea trees found in Africa. It has a nice thick and creamy texture to it. Shea butter works as an emollient. Thus, it leaves your skin super hydrated and makes it look smoother and plumper. It absorbs well and feels non-greasy.
Shea butter also has anti-inflammatory effects. Thus, if your skin is sensitive or eczema prone, you can use shea butter. It can heal your skin and can calm down redness and blotchiness. Thanks to its anti-inflammatory and skin-healing effects!
Moreover, shea butter is one of the best organic moisturizers for mature skin since it can boost collagen formation in the skin and reduce wrinkles too.
| | |
| --- | --- |
| Shea Butter | Quick Facts |
| What they are | Moisturizers – Emollients |
| What they do | Maintain a healthy barrier, soothe inflammation, heal and upgrade collagen – making your skin look younger |
| When to Use | Nighttime |
| Preferred Skin Type | Dry, aging skin (avoid if your skin is way too oily or breakouts prone) |
FarmHouse Fresh Fluffy Bunny Shea Butter Cream
A smooth and fluffiest texture butter whip 
With the goodness of shea butter, cocoa butter, jojoba seed oil, and aloe
Calms driest of the dry skin
Soothes sunburns 
Improve wrinkles, fine lines, and skin texture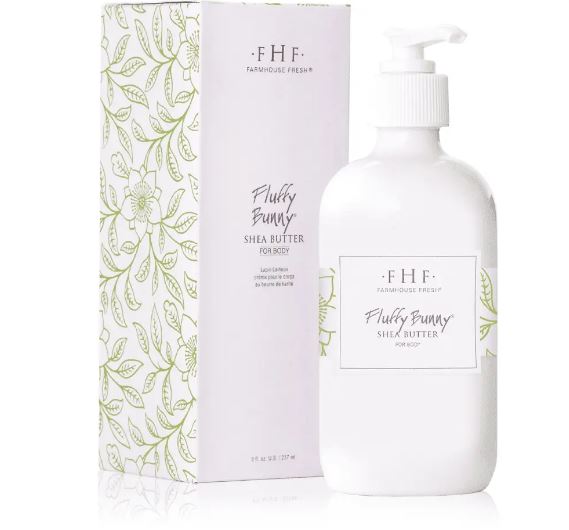 Hyaluronic Acid
So, the next one, among the best organic moisturizers for mature, dry skin, is a humectant. Hyaluronic acid is a humectant that draws water to the skin cells. That is, it sucks up moisture and hydrates your skin.
So, if you want something that defies your age by keeping your skin supple, dewy, and hydrated, then you should use hyaluronic acid moisturizers! They come as gel, creams, serums, or even dermal fillers. 
A study on hyaluronic acid showed that:
Within six weeks of hyaluronic acid face serum use (twice daily with sunscreen), participants had plumper, smoother, and moisturized skin. Moreover, there was a visible cutback on signs of aging too.
| | |
| --- | --- |
| Hyaluronic Acid | Quick Facts |
| What they are | Moisturizers – Humectants |
| What they do | Make your skin look younger by drawing water to it, improving texture and wrinkles. |
| When to Use | Twenty onwards, Day and night (twice daily) |
| Preferred Skin Type | For all skin types |
Ilike Hyaluronic Time Erase Complex Moisturizer
Phenomenal improvement in signs of aging

herbal formulae with hyaluronic acid, vitamin E, yucca (reconstruct skin damage from UV), horsetail (anti-oxidant)

revives your skin moisture barrier by adding water to it

Works best for premature aging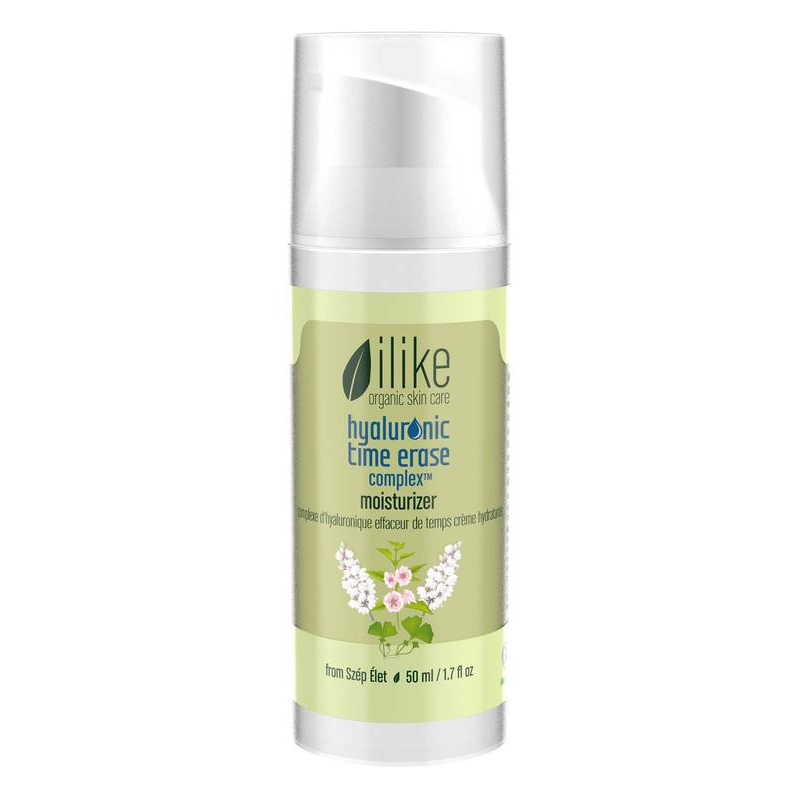 Organic Coconut Oil
Coconut oil is an emollient moisturizer that is a rich source of fatty acids that help seal or trap water inside your skin. It can help heal dry, chapped cracks in your skin. Also, it reduces inflammation and redness. It can calm sensitive or itchy skin. Even coconut oil can be helpful with dermatitis or eczema! Coconut oil improves skin elasticity by regenerating collagen. 
Did you know that coconut oil even works as an anti-oxidant? So, it is also a free radical scavenger. Moreover, it strengthens the skin barrier. So, everything put together makes it a superhero ingredient for the best organic moisturizers for mature skin.
| | |
| --- | --- |
| Organic Coconut Oil | Quick Facts |
| What they are | Moisturizers – Emollient |
| What they do | Replenish your skin's fatty lipids (keeps it soft and plump) |
| When to Use | Day and night over damp skin (avoid over the face if not your skin type; chest and hairy skin) |
| Preferred Skin Type | Dry, sensitive, mature skin types (avoid if your skin is prone to acne or very oily) |
Eminence Coconut Age Corrective Moisturizer
Features coconut oil and water, swiss green apple stem cells, and a natural retinol alternative complex

Hydrating and age-defying 

Coconut prevents moisture loss

Retinol is the holy grail to reverse the signs of aging

Apple stem cells regenerate newer skin cells (activates skin stem cells), repair damaged cells, and protect against UV
Squalene
Another lipid! Squalene is a part of lipids and makes up about 13% of lipids present in your skin. Our skin is the largest organ (exposed to UV rays constantly). The sun's rays work as oxidants, and over time, it causes damage to skin lipids. That also compromises our skin barrier and its ability to retain moisture. 
Thus, by using your skin's natural lipids in your skin care routine (ceramides or squalene), you replenish it with lost and impaired lipids. That allows your skin barrier to repair, your skin's hydration to improve, and the signs of aging to fade with time.
Squalene is unique. It quickly and thoroughly absorbs into the skin, humidifies it very well, and makes it flexible and supple without leaving an oily residue! That's all you will need from a natural moisturizer!
Also, squalene is free radical scavanger. That is, protect your skin from all stressors – sunlight or pollutants. Thus, it protects your skin from senescence or aging and skin damage. Say hello to flawless and smoother skin without texture! Squalene lessens the incidence of skin cancer too.
Squalene
Quick Facts

What they are

Moisturizers – Emollient (also a part of our sebum)                  

What they do

Replenish your skin's fatty lipids (make 13% of skin's lipids)
Anti-oxidant (say no to photodamage and aging)
Skin hydrant
Reduces irritation                           
Anti-cancer effects

When to Use

After 20 years of age 
Daytime (before sunscreen) and night, daily 
Over damp skin

Preferred Skin Type

All skin types 
Lightweight oil, Non-comedogenic, Non-greasy, thus you can use it with oily skin (if other oils are too heavy for your skin)
BioVegane Organic Goji Day Care Cream
Organic blend that works best for damaged skin 

One of the best organic moisturizers for mature skin types (100% vegan)

Loaded with organic Goji Berries, Scots Pine, Black Currant Leaves, Squalene, Shea Butter

Goji berries are native to Asia, and they love it for its age-reversing effects

Scots pine and blackcurrant leaves work as anti-oxidants. Also, they boost collagen, elastin, and hyaluronic acid.

Shea butter – adds silky smooth moisture to the skin

Vegetable Squalene adds moisture without being heavy, greasy, or oily

All put together – to make this moisturizer a great formula that heals and moisturizes mature skin decently!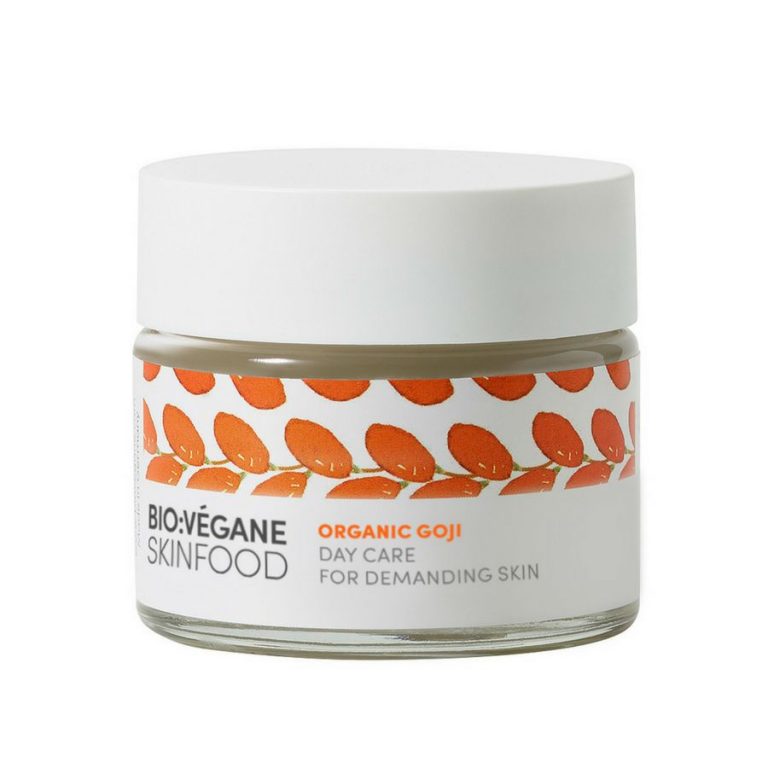 | | |
| --- | --- |
| Salicylic Acid Strengths | Uses |
| 0.5% | Skin-soothing effect |
| 1-2% | Acne, Blackheads |
| Up to 50% | Chemical peeling |
Can you use salicylic acid as a moisturizer?
Yeah! Salicylic acid can also work as a moisturizer. The reason is that salicylic acid works like a humectant. Thus, it attracts water to the skin's surface, hydrating it. Also, since salicylic acid is an exfoliant (dissolves the dead skin cells), it promotes skin cell renewal allowing collagen formation to speed up.
Another way to look at it is that as dead cells shed, this brings younger and healthier cells to the top. That way, you ditch dull-looking saggy face. Moreover, if your skin is super dry and you need to use a moisturizer additionally, it will penetrate your skin more effectively (after you use salicylic acid).
Salicylic acid is an astringent that tightens your pores and overall skin likewise.
With that said, it is safe to conclude that salicylic acid is a good choice for: 
acne

melasma

post acne scars

freckles

sun damaged skin

textured skin

fine wrinkling
Salicylic Acid
Quick Facts

What they are

Moisturizer – Humectant; Exfoliant

What they do

Attract water to the topmost skin layer
Remove dead skin cells
Speed up collagen and new skin cells

When to Use

Teens
Twice daily (depending on the strength)

Preferred Skin Type

Oily or acne-prone skin type
Textured skin
GM Collin Acne Complex
It comes with 1% salicylic acid and essential oils

Gentle formula to refine skin without drying 

Refresh acne-prone skin without losing moisture

Purify, calm, and soothes skin by detoxifying pores

It leaves a softer, subtle matte touch to your skin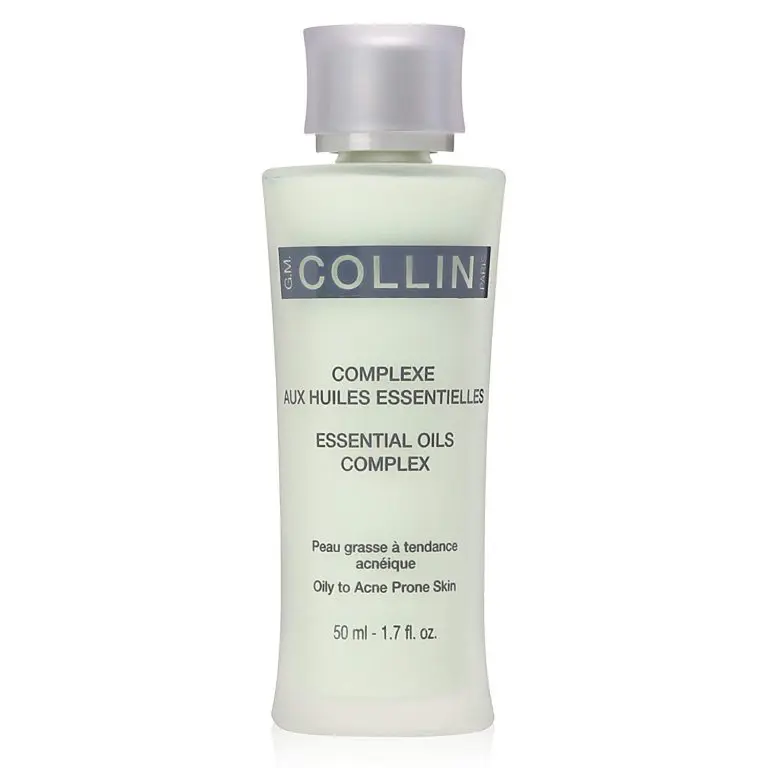 Jojoba Oil
Hydrolyzed jojoba oil act like an occlusive moisturizer. Thus, it holds water to your skin and prevents moisture loss through the skin cells without clogging up pores. So, does occlusive jojoba oil makes one of the best organic moisturizers for mature skin? Let's find out!
Some resources suggest that jojoba oil works like a humectant too. Whatever the mechanism, the result is that jojoba oil is immensely moisturizing. Also, jojoba oil is a natural source of vitamin E. Hence, jojoba oil fights against oxidants and repairs your skin from the harmful effects of the environment. Studies suggest that anti-oxidants produce collagen, which smoothens sagging, and wrinkling.
Jojoba oil mimics the body's natural sebum. Thus, as you apply it, this reduces the natural sebum production from skin cells. And that moisturizes your skin thoroughly without being excessively oily or clogging pores.
Jojoba Oil

Quick Facts

What they are

Moisturizer – Humectant/Occlusive

What they do

Attract water, prevent moisture loss
Fight against oxidants
Boost collagen 
Tame dry, irritated skin

When to Use

Preferred Skin Type

Sensitive skin
Dry Skin 
Mature skin
FarmHouse Fresh Citrus Cilantro Body Oil 
A perfect refreshing mix that you can use as the best natural face and body moisturizer for mature skin

Vitamin-rich formula with jojoba oil, vitamin E, cilantro oil, and olive fruit oil is a powerhouse of anti-oxidants and intense moisturization.

They also counter signs of aging.

Moreover, soybean oil, shea butter, and cocoa butter provide additional dewy hydration.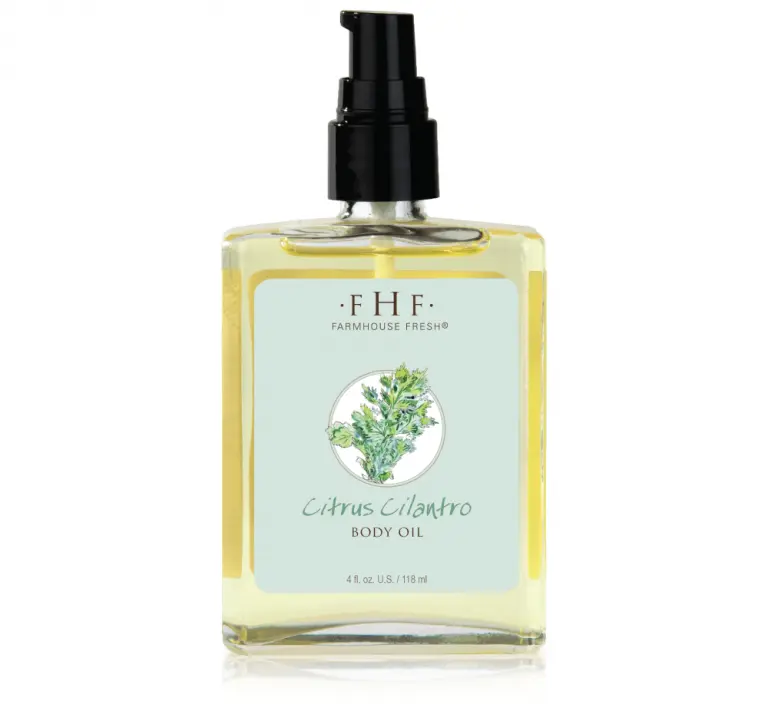 So, here you go! If you are looking for the best organic age-defying moisturizers to add to your skin care, make sure you add emollients. They soften up mature dull, and dry-looking skin by adding skin lipids. Organic moisturizers that include ingredients like ceramides, squalene, and organic coconut oil will rebuild your anti-aging skin care routine; as they tame dry, cracked, wrinkled mature skin – for sure!