Dr. Schrammek Sensiderm Mask – 75ml
🔍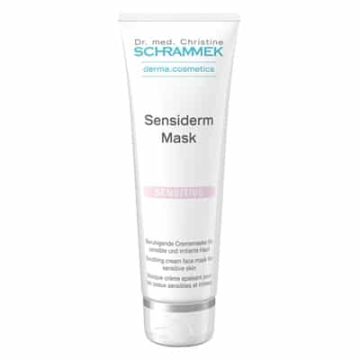 Dr. Schrammek Sensiderm Mask – 75ml
$75.99
SOS mask for effective calming of stressed, reddened skin. Refreshes and combats redness and feelings of tautness. The skin appears balanced, soft and supple. Without fragrances and preservatives. Free of mineral oils and parabens.
Description
Dr. Schrammek Sensiderm Mask
Helps irritated and stressed skin in minutes
Alleviates redness, burning and itching
Stabilises the natural resistance mechanism of the skin
Gives skin a long-lasting surge of moisture and protects against moisture loss
Reduces the skin's sensitivity to irritants
Guardian angel for skin
Instant relief for the skin for sudden redness, itching or irritations
Valuable plant-based active ingredients with a high level of skin
tolerability for sensitive skin
Lends the skin softness and balance in only minutes
Contains no parabens, perfume or colouring agents
Reconstructs the skin's own resistance mechanisms
Usage Instructions for Dr. Schrammek Sensiderm Mask

As needed, apply the face pack several times a week on the face, throat and
décolleté. After about 15 minutes of taking effect, remove excess product carefully
with a Kleenex tissue.TIP: SENSIDERM salon treatment!
Dr. Schrammek Sensiderm Mask Active Ingredients

Zinc complex (Skinwell)
Madecassosides (Centella asiatica)
Barley malt complex (Stimutex)
Panthenol
Macadamia oil
Avocado oil
Specifications
Size
Salon:
125ml tube