Eminence Hungarian Herbal Mud Treatment – 2 oz.
🔍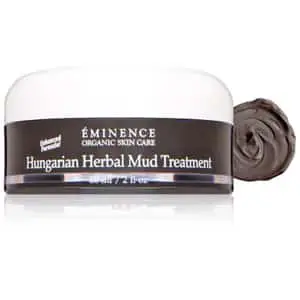 Eminence Hungarian Herbal Mud Treatment – 2 oz.
$46.00
Eminence Hungarian Herbal Mud Treatment treats and prevents future breakouts to promote a clear, radiant complexion. Hungarian herbal mud enriches your skin with nourishing minerals as it eliminates impurities and balances oil production. Formulated with willow and linden tea, it soothes and hydrates while paprika and cinnamon invigorate to revitalize a lackluster look.
Labor Day Sale 15% Off Code: labor22
Description
Eminence Hungarian Herbal Mud Treatment
Skin Type: Face: Acne/Oily/Seborreic. Body: All/Irritated/Acne/Fatigued.
Eminence Herbal Mud Treatment Description:
The stimulating, antiseptic and regenerating agents improve skin tone , decreases oil production, improves skin texture and nourishes the skin.
Eminence Herbal Mud Treatment Features & Benefits:
Highly stimulates and regenerates the epidermis.
Improves oily, seborreic and acne skin conditions.
Improves skin tone and vitality.
Helps to reduce sebum production and irritation.
Increases elasticity and improves the texture of the skin.
How To Use Eminence Herbal Mud Treatment:
Warm the mud up to body temperature. Spread a thin layer on the surface of the skin with a brush, wrap the skin and keep it warm for 15–20 minutes. (For easier application, dilute the mud with water) Unwrap and rinse. Following with Couperose-C Serum, is recommended. Due to increased circulation, a tingling sensation may occur for up to 20 minutes and redness for up to 45 minutes after which the skin will feel refreshed, detoxified and soothed.
Warning: A preliminary patch test is advised before a general application is made: cleanse skin behind the ear, apply the product and leave undisturbed for 15–20 minutes. If no unnatural reaction occurs, apply the product as directed. Note that heated skin and slight redness are natural reactions to special treatment products. Not for use with either extremely sensitive or medical condition skins.
Eminence Herbal Mud Treatment Description:
Hungarian Herbal Mud, Cinnamon, Sage, Willow Ivy, Paprika, Elder, Horsetail, Lemongrass, Linden Tean Red Rose Petal, Walnut Leaf, Salicylic Acid, Extract of Achillea, Xanthan Gum, Soy, Glyceride.