Guinot Anti-Fatique Yeux Eye Mask – 1.05oz
🔍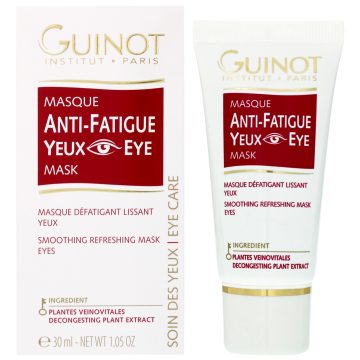 Guinot Anti-Fatique Yeux Eye Mask – 1.05oz
$45.00
Guinot Masque Anti-Fatique Yeux Eye Mask – Formerly Masque Yeux – Instant Eye Mask 1.0 oz.
Prevents dark circles. Double action treatment.
Smoothig effect on wrinkles and decongesting effect on puffy eyes.
Smoothing and Relaxing. Helps reduce the appearance of dark circles.
Helps soften lines and crows feet Rejuvenates the eye contour.
Helps tighten the surface tissues. Stimulates and tones the skin. The eye area looks brighter and younger.
Description
Guinot Anti-Fatique Yeux Eye Mask
Anti-fatigue, anti-dark circles mask
Instantly revitalizes the eye contour.
Reduces puffiness and dark circles.
Smoothes and rejuvenates the eye contour.
PRESCRIPTION
Horse Chestnut extract: vein toner.
Camomile extract: softens, moisturizes and soothes the skin.
Witch Hazel extract: regulates microcirculation.
Hyaluronic acid: moisturizes and combats decreased elasticity.
USE ADVICE
Use at least twice a week.
Leave on 10 minutes and then remove with lukewarm water.