ilike Organics Seven Herb Mask – 1.7 oz.
🔍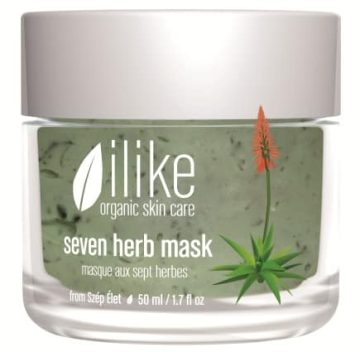 ilike Organics Seven Herb Mask – 1.7 oz.
$59.00
Ilike Organic Skin Care Seven Herb Mask hydrates, heals and nourishes skin prone to excessive oiliness, inflammation and acne. Aloe vera soothes and cools the skin and also helps improve tone and texture. Spearmint helps minimize skin infections while vitamin C provides powerful antioxidants to the skin.
Labor Day Sale 15% Off Code: labor22
Description
ilike Organics Seven Herb Mask
Skin Type: Normal/Combination Skin.
ilike Seven Herb Mask Description:
The Seven Herb Mask is perfect sensitive and inflamed skin characteristic of acneic/seborrheic skin. It heals, tightens, tones and soothes skin, making even extensive extractions nearly vanish. Ingredients help regulate oil. Mask can be applied as maintenance between salon visits.
ilike Seven Herb Mask Features & Benefits:
Heal and sooth inflamed skin.
Somewhat tightens the skin.
Provides nourishment and hydration.
Reduces shine.
Certified organic ingredients (BDIH, EcoCert partner Biokontroll and EU decree certifictates)
Prepared with fruit, vegetable and herb pulps to preserve the full concentration and potency of ingredients.
How To Use ilike Seven Herb Mask:
Exfoliating on a regular basis heightens the effects of the mask. After thoroughly cleansing the skin, spread on to the neck and face area. Leaving the mask on for 15-20 minutes, 1-2 times per week will provide the best results. Removal of the mask should be done with a damp towel, followed by a serum and moisturizer.
Spa use: Calms the skin after extractions!
NOTE: It is normal to have a tingling feeling 30-60 seconds after you apply this product to the skin, but will stop after a few minutes, followed by a calming, soothing effect.
ilike Seven Herb Mask Ingredients:
Aloe Vera, Stonecrop, Elderflower, Yarrow, Coltsfoot, Plantain, Spearmint, Honey, Corn Germ Oil, Lemon Balm Oil, Zinc Sulphate, Carotenoids, Saponins, Vitamin C and E, Mineral Salts, Trace Elements.