🔍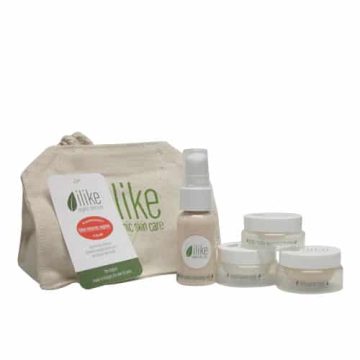 ilike Time Reverse Set
$59.00
Ilike Organic Skin Care Time Reverse Regime cleanses, moisturizes and refines the skin to improve tone and texture. Each product is formulated to leave the skin feeling calm and refreshed while excess oils are absorbed. The skin is left brighter and rejuvenated. Perfect for travel use.
Labor Day Sale 15% Off Code: labor22
Description
ilike Time Reverse Set
Skin Type: Aging/Dry.
ilike Time Reverse Set Description:
Target wrinkles, fine lines, skin discolorations and dry skin with the ilike Time Reverse Set.
ilike Time Reverse Set Contains:
ilike Rose Petal Cleanser – travel size – Enjoy the fragrant, sweet-smelling purity of ilike Rose Petal Cleansing Milk. Created using hundreds of rose petals, this cleanser is gentle enough to remove impurities and make-up on both your face and eyes.
ilike Yogurt Power Peel – travel size – Want to even your complexion and heal chapped skin? ilike Yogurt Power Peel can help even the hardest, roughest spots.
ilike Rich Carrot Mask – travel size – Used in the winter, it provides much needed oil and water to skin damaged by winters brutal wind and cold. Applied prior to sunbathing or tanning in a bed helps skin to remain healthy looking, but can also treat sunburned skin.
ilike Glycolic Medlar Treatment – travel size – Used regularly, the naseberry and glycolic acid in ilike Glycolic Medlar Rejuvenating Treatment aid in diminishing wrinkles. The Treatment also nourishes the skin with vitamins.