🔍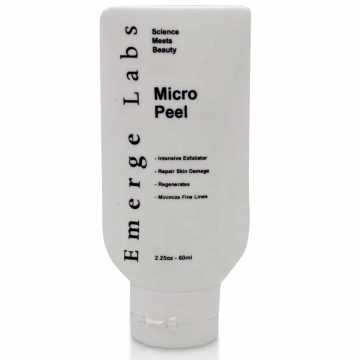 Microdermabrasion Peel
$25.00
Get a youthful glow with this microdermabrasion peel and earn results parallel to a professional, clinical visit. This formula contains pharmaceutical-grade crystals, lactic acid, and soothing botanicals to polish away dead skin cells, provide a radiant, healthy look, and smooth skin's texture. Watch as the appearance of fine lines, acne marks, and skin discolorations diminish as you achieve maximum results in minimal time.
In stock
Labor Day Sale 15% Off Code: labor22
Description
Microdermabrasion Peel
Intensive exfoliation, restores and rejuvenates, repair skin damage.
Designed to exfoliate the skin with magnesium oxide crystals, Emerge Microdermabrasion Peel "Micro-Peel" immediately improves the appearance and texture of the skin by smoothing fine lines and wrinkles. This multi-action treatment also lightens the skin, evens out skin tone, and minimizes the appearance of scars and discoloration. This treatment is also beneficial in treating and clearing acne.
To use: Dampen skin with warm water. Avoiding the eye area – slowly and gently massage approximately a nickel-sized amount of the cream into skin in a circular motion for 1-3 minutes, then rinse well. For best results, use 2-3 times per week, allowing a minimum of two days in between treatments.
Ingredients: Water, Cetearyl Isononanoate, Ceteareth-20, Cetearyl Alcohol, Glyceryl Stearate, Glycerin, Ceteareth-12, Cetyl Palmitate, Sodium Polyacrylate, Propylene Glycol, Apricot Oil, Glycolic Acid, Phenoxyethanol, Methylparaben, Isopropylparaben, Isobutylparaben, Butylparaben, Aluminum Crystals.