Phyris Anti-Aging [ For Sensitive Skin ] – 50ml
🔍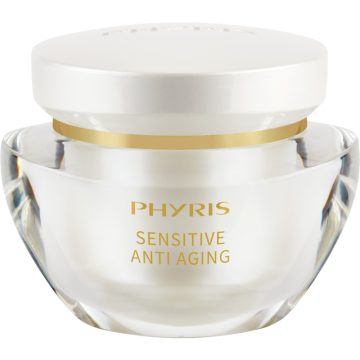 Phyris Anti-Aging [ For Sensitive Skin ] – 50ml
$56.00
Reduces fine lines, calms and strengthens sensitive skin
Description
Phyris Anti-Aging [ For Sensitive Skin ]
This silky 24-hour cream reduces fine lines, combats skin aging, and calms and strengthens sensitive skin.
The protein Vitamin B complex supports protein, lipid, and ceramide synthesis and thus improves the skin barrier. The defense complex strengthens the skin's own defense mechanisms and is both anti-inflammatory and calming. Globe daisy extract strengthens the skin against external factors that cause irritations and premature skin aging. Lavender extract relaxes the skin, reduces fine mimic lines, and acts like a natural botox alternative. The texture is conditioning yet light and fresh thanks to high-quality shea butter.
For a tight and smooth complexion.
INGREDIENT HIGHLIGHTS:
Protein Vitamin B complex, defense complex, globe daisy extract, lavender extract, shea butter
Application: In the morning and evening, after cleansing, SOMI, and suitable eye care, apply a hazelnut-sized amount to the face, neck, and décolleté.
Tip: ANTI AGING is ideal for sensitive skin with a decline in resilience and fine lines. Thanks to its silky texture, it is highly suitable as a make-up base.