Phyris Collagen Filler – 30ml
🔍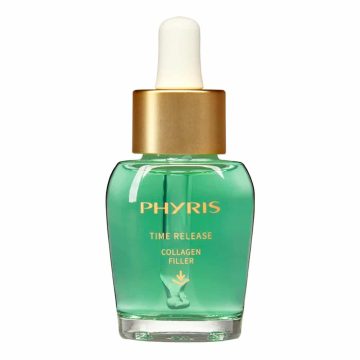 Phyris Collagen Filler – 30ml
$59.00
The delicate anti-aging serum instantly and lastingly improves the skin's elasticity and tightens its contours.
• Liposomally encapsulated maritime collagen lastingly supports the skin's firmness.
• Biopeptides support the skin's own collagen synthesis, thus improving the skin's elasticity and leaving the skin feeling noticeably beautiful with more resilience.
Description
Phyris Collagen Filler
The PHYRIS Collagen Filler intensive serum immediately targets the typical changes of mature, tired skin and quickly ensures firmer contours. Collagen, an important constituent of connective tissue, improves the elasticity and firmness of the skin over the long term and can support the restructuring of the connective tissue. The collagen contained in Collagen Filler is of marine origin and is liposomally encapsulated.
PACKAGING: Pipette bottle
INGREDIENT HIGHLIGHTS:
Maritime Collagen, Anti Age Peptides
Tip: Applied as a cure, this serum intensively tightens the skin. Works lika a facelift without going under the knife.