Physiodermie Normalizing [ HY ] Bioarome – .51 oz
SALE
🔍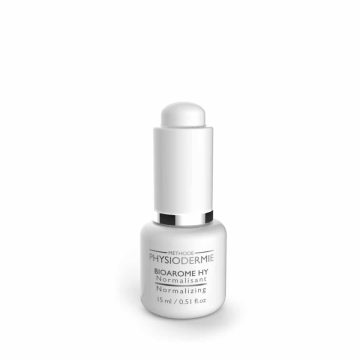 Physiodermie Normalizing [ HY ] Bioarome – .51 oz
Provides an instant freshening feeling, and helps relieve tiredness or the uncomfortable feeling of heavy legs.
Moisturises and softens epidermis of heavy legs.
Labor Day Sale 15% Off Code: labor22
Physiodermie Normalizing [ HY ] Bioarome
GH7 complex facilitates balancing cutaneous exchanges and improves surface circulation. Highly recommended to help treat and relieve heavy legs. To treat dark circles and grey complexion
Relieving effect for heavy legs: Apply 20 drops of the Normalizing Bioarome on troublesome areas and mix 10-15 c.c.s of the Light Leg Complex.
When used alone, apply a few drops of the Normalizing Bioarome on the affected area and massage in gently to allow total penetration. Use alone or in combination with other Physiodermie products depending on the skin condition. The quantity of Bioaromes used must always be less in volume than the product with which it is mixed.
Key Ingredients:
Synergy of natural essential oils of Cypress, Lavender, Peppermint and plant extracts of Witch Hazel.
Phospholipidic Complex
Hydrating Agent
Vitamin E derivative.
Aqua (Water), Butylene Glycol, Potassium Cetyl Phosphate, Lecithin, Glycerin, Cholesterol, Cupressus Sempervirens Leaf Oil, Propylene Glycol Stearate, Polysorbate 20, Sorbitan Laurate, Propylene Glycol Laurate, Hamamelis Virginiana (Witch Hazel) Leaf Extract, Lavandula Angustifolia (Lavender) Oil, Mentha Piperita (Peppermint) Oil, Tocopheryl Acetate, Phenoxyethanol, Ethylhexylglycerin, Sodium Benzoate, Tocopherol, Linalool, Limonene, Geraniol, Coumarin, Citronellol.
*Our formulas may be evolved, please always refer to the list of ingredients on the packaging.