Biodroga MD Perfect Hydration 24H Care – 50ml
🔍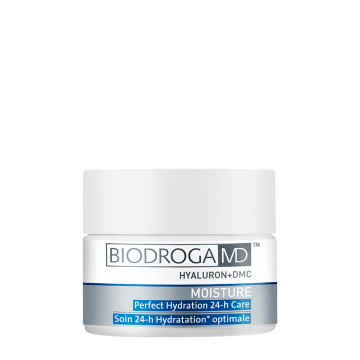 Biodroga MD Perfect Hydration 24H Care – 50ml
$84.80
• Optimally supplies moisture to the skin
• Activates the retention of moisture in the skin
• Nourishes the skin around the clock
• Promotes resilience and elasticity of the skin
• Removes the unpleasant sensation of stretched skin
• Makes flaky, dry skin appear smooth and nourished again
• Protects the skin from external influences
• Protects the skin from the damaging effects of free radicals
Description
Biodroga MD Perfect Hydration 24H Care
BIODROGA MD MOISTURE Perfect Hydration 24-h Care with hyaluronic acid provides an intensive supply of moisture to the skin and assists in re-establishing the skin's moisture balance. Hyaluronic acid, embedded in a skin-similar Derma Membrane Basis, ensures an extremely good skin tolerance. In addition, DMC ensures that the hyaluronic acid and all other ingredients can be absorbed optimally by the skin.
With hyaluronic acid, pomegranate extract, yam root extract, vitamin E acetate, licorice root extract, sunflower seed hybrid oil, and olive oil derivative, this moisturizing preparation provides state-of-the-art 24-hour care, moisture, antioxidative protection, and anti-aging effects. Jojoba oil keeps the skin velvety smooth. D-panthenol possesses soothing properties. A UVA/UVB protective complex shields the skin from the sun's harmful rays.
*Free from emulsifiers and mineral oils, paraben-free. Contains natural essences.
How To Use: 
In the mornings and evenings, apply evenly to cleansed skin.
Key Ingredients:
Hyaluronic Acid, Vitamin E Acetate
Size:
Dry Skin
Size:
Retail (50 ml)