🔍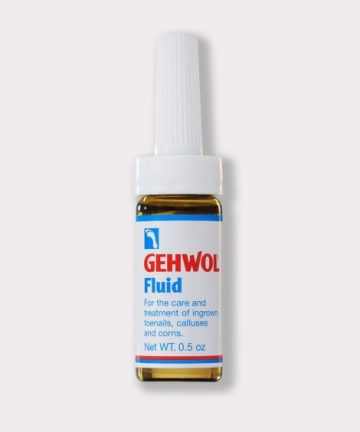 Gehwol Fluid
$25.72
Provides care for skin and nails, softens hard skin. Indispensable aid for working on sore, torn skin and making nails healthier and stronger.
Description
Gehwol Fluid
For treatment and care of ingrown toenails, corns and calluses. It makes hard skin elastic, supple and smooth; an essential aid while working with instruments on ingrown toe nails, corns, calluses and in the perionychium. Due to disinfecting properties, it prevents inflammation and soothes irritable skin.
APPLICATION:
Apply one to two drops of Gehwol Fluid to the affected site and leave to take effect for a few minutes. Use once or twice daily.
INGREDIENTS:
Propylene Glycol, Bisabolol, Eugenia Caryophyllus (Clove) Oil, Thymol, Chloroxylenol, Ethylparaben, Eugenol.What it is: Provides care for skin and nails, softens hard skin. Indispensible aid for working on sore, torn skin and nails. What else you need to know: Vegan, Gluten Free, Suitable for Diabetics, Dermatologically tested. Product Options Available are as follows: Size : 0.5 oz – Gehwol Fluid