Nelly De Vuyst Purifying Extract – 1oz
🔍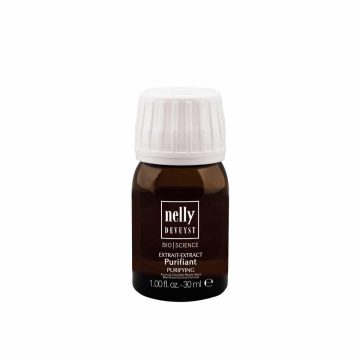 Nelly De Vuyst Purifying Extract – 1oz
$74.72
FEATURES AND BENEFITS:
Dissolves and removes blackheads within 3 weeks of daily use (in combination with Soft Net and 3 Minute Gommage).
Dissolves and eliminates milia in a progressive and non-invasive manner.
Eliminates the shiny areas of the face for a matte complexion.
Promotes good oxygenation of the skin for a fresh and clear complexion.
Clears the pores to leave skin purified.
Reduces sebaceous gland activity and reduces the size of pores.
Soothes irritation caused by inflammation related to bacteria.
Labor Day Sale 15% Off Code: labor22
Description
Nelly De Vuyst Purifying Extract
The Purifying Extract is recommended for combination and oily skin showing impurities, milia and blackheads. Formulated with a blend of essential oils known for their ability to normalize the sebum activity, the Purifying extract will help prevent and diminish the appearance of T-Zone shine and blackheads. The skin reveals a clear complexion, and the pores look refined.
Morning and/or evening, after a thorough cleansing of the skin. Apply on oily areas of the face and neck and gently massage until completely absorbed. Never apply on the eyelids. Non-comedogenic and dermatology tested. For external use only. Avoid contact with the eyes.