Phyris Skin Results Serum – 30 ml
🔍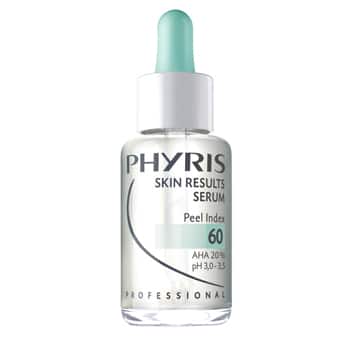 Phyris Skin Results Serum – 30 ml
$60.00
Correct application of PHYRIS SKIN SERUM RESULTS:
RESULTS SKIN SERUM is preferable during the evening care ritual used. Face and neck thoroughly with a suitable cleaning PHYRIS. Then give a pipette filling SKIN SERUMRESULT on a palm and apply with the fingertips of the other hand on the face and neck. Thereby avoiding the area around the eyes. The application may be accompanied by a slight tingling sensation on the skin and is typical of AHA serums. Leave for 10 minutes. DO NOT RINSE. Then the right PHYRIS SOMI and the usual PHYRIS care product.
NOTE: During a spa treatment of PHYRIS SKIN SERUM RESULTS is daytime necessarily pay attention to adequate sun protection.
Do not use on irritated skin after hair removal and intolerance to fruit acids. Avoid contact with eyes.
Description
Phyris Skin Results Serum
This gentle AHA serum with Peel Index 20 (5% fruit acids, pH 4.0 – 4.5) is suitable for all skin types, even sensitive skin. It refines, evens out and regenerates the skin. Fine lines and minor irregularities are reduced, which makes the complexion look fresher and younger. To achieve the optimum rejuvenation effect, PHYRIS Skin Results Serum is used daily as a course of treatment over a period of 28 days in accordance with the skin's regeneration cycle.
PACKAGING: Pipette bottle
INGREDIENT HIGHLIGHTS:
Malic Acid (encapsulated), AHA-Complex
Tip: Perfect attendant for home treatments during a fruit acid cure in the beauty salon. For an intensive 4-weeks rejuvenating cure it can be applied daily. Such a cure can be repeated 2 – 3 times a year.